Brazilian fire-fighters accused of dereliction of duty in blaze that killed 242 students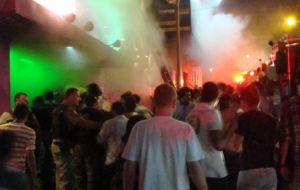 Brazilian police accused eight firefighters of dereliction of duty for their alleged failure to enforce fire codes at a nightclub where a January 27 blaze resulted in the deaths of 242 people, the Record TV network reported this week.
The accused, all men, were responsible for inspections of the Boate Kiss nightclub in Santa Maria, a university town in Brazil's southernmost state of Rio Grande do Sul. The firemen were also responsible for making sure the club's fire prevention and escape plans met local codes.
News reports shortly after the fire showed that the club failed to meet many basic safety regulations that the fire department and city inspectors are charged with enforcing. The club did not have all the required licenses to operate.
Victims and their relatives consider the charges, most of which only carry prison terms of several months and demotion or expulsion from the force, too light, the G1 news service reported on its website.
Two club owners and two band members face manslaughter charges over the fire and could face years in prison if convicted.
The Boate Kiss nightclub was packed when a member of a live band allegedly fired off fireworks that set insulation on the club's ceiling alight. The only exit door from the club was temporarily blocked by security who thought the victims trying to flee were skipping out on their bar tabs.
Many panicked club-goers fled instead into exit-less bathrooms where they piled up, overcome by toxic smoke. Some who made it to safety died going back to rescue friends and family. Others, damaged by smoke and cyanide-laced fumes agonized in hospital for months. The latest victim died May 19.
One of the firemen, an officer, also faces a charge of fraud for failing to disclose that he was a partner in a company that developed fire prevention plans, the Exame newsweekly magazine reported on its website.
The accusations were made before judges of the Rio Grande do Sul state military court. The judges have the authority to accept the accusation, formally charging the individuals, or to reject the accusations.
The state military court has authority over all cases involving the state's paramilitary police and paramilitary firefighting forces. In Brazil most police and firefighters are not subject to the jurisdiction of civilian courts for acts committed on duty.
Brazilian fire departments and most police are auxiliaries of the Brazilian Army, but under the command of the governor of each state.