Duchess of Cambridge christened the new "Royal Princess" in Southampton
Saturday, June 15th 2013 - 02:39 UTC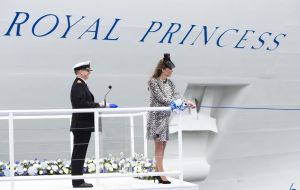 Kate Middleton christened the new 'Royal Princess' cruise ship in a ceremony in Southampton. The Duchess officially named the ship as she stood on the naming platform with the ship's Captain Tony Draper. "I name this ship Royal Princess. May God bless her and all who sail in her," Middleton said. She then cut the rob that sent a bottle of Moet & Chandon champagne crashing into the ship, officially welcoming the new ship into the fleet of Princess Cruises.
The Duchess of Cambridge has been officially designated the godmother of the new ship. She is expecting her first child with Prince William in mid-July. The child will become third in line for the throne behind William and his father, Prince Charles.
"We can think of no more fitting godmother for our magnificent new Royal Princess," said Alan Buckelew, Princess Cruises' president and CEO in a release.
"Her Royal Highness is an inspiring ambassador for Britain - with whom Princess Cruises shares strong ties - and she is admired around the world for her style and grace. We're so honored she accepted our invitation to become godmother to our new ship."
The naming ceremony included star-studded entertainment like performances by British pop singer Natasha Bedingfield singing her hit "Unwritten," as well as an original song by British actress and "the first lady of London's West End," Kerry Ellis. The internationally renowned percussive orchestra Mass Ensemble also gave a performance with its 1,000-foot wide harp. The Band of Her Majesty's Royal Marines Portsmouth and The Pipe Band of 1st Battalion Irish Guards opened the event.
This naming event capped a week of activities leading up to the launch of the ship. A special gala was held the night before.
Middleton isn't the only celebrity to become a godmother of a Princess ship. Others included Diana Princess of Wales, Audrey Hepburn, Sophia Loren, Dame Margaret Thatcher and Olivia de Havilland.
The new Royal Princess ship can carry 3,600 passengers. The ship has a multi-story atrium which will have multiple dining and entertainment options. It also has an over-water Sea Walk, a top-deck glass-bottomed walkway extending 28 feet beyond the edge of the ship. It also has a television studio, the largest pastry shop at sea, balconies on all outside staterooms and a special Chef's Table Lumiere, a private dining experience that surrounds diners in a curtain of light.
The ship will make its maiden voyage to Barcelona on Sunday June 16 and then will sail on Grand Mediterranean cruises throughout the summer. It will then make Eastern Caribbean voyages in the fall.