Simultaneous raids in Argentina, Chile and Uruguay after links between football transfers and money laundering
Saturday, June 15th 2013 - 04:10 UTC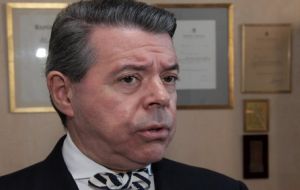 An estimated 150 search warrants were simultaneously implemented in Argentina, Uruguay and Chile in financial institutions, football clubs and players' representatives looking for evidence on an organization dedicated to money laundering through the sale of soccer players.
Argentine Judge Norberto Oyarbide coordinated the Friday surprise mega-operation with his peers from Uruguay and Chile, personally delivering the search warrant requests earlier in the week.
In Uruguay financial institutions located at Montevideo's World Trade Centre and Zonamerica, which operate as free trade zones were raided by a judge and prosecutor with strong police and Interpol support. Several computers and documents were seized. According to police sources money transfer company Alhect Group and the Royal Bank of Canada offices were raided.
Likewise in Argentina financial institutions and well-known football clubs such as San Lorenzo, Racing, Velez and Independiente, and players' representative offices were also raided, with ten arrests including two government officials allegedly involved in the money laundering.
According to the Buenos Aires media the raids discovered "the main offices of Argentine football money laundering organization", which allegedly managed tens of millions of dollars in recent years with players' transfers.
The offices were identified as belonging to Alhec Group, as in Montevideo and Santiago, responsible for many players' transfers. However the head of the office, no names were given is 'on the run'.
Alhec Group which apparently is also involved in the foreign money exchange business in Argentina (which is strictly regulated) also has "close links with the majority of Argentine clubs".
Last March Argentina's tax revenue office, AFIP had targeted Alhec Group following claims of illegal activities such as smuggling hard currency out of Argentina. This apparently led to the discovery of a network for the adulteration of players' documents so as to obtain Italian citizenship, working triangularly with offices in Uruguay and Chile.
"It's a search warrant extensive to all football clubs, which links the transfer of players to money laundering. We handed all the information requested, we have nothing to hide", said Matias Lammens, president of San Lorenzo club.