Falklands: Irish lawmakers support UN Resolution 2065 and dismiss recent referendum
Sunday, June 16th 2013 - 10:31 UTC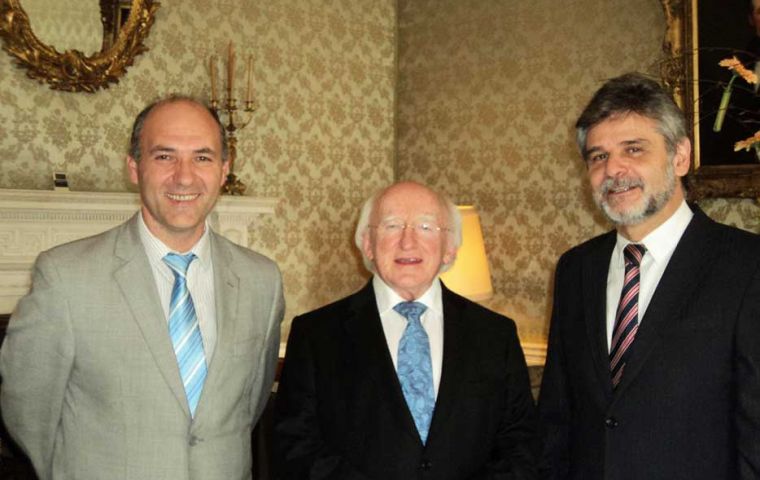 Irish lawmakers expressed support for the compliance of UN Resolution 2065 which acknowledges the Argentine/UK Falkland Islands dispute and dismissed any International law consequences from the recent referendum held in the Falkland Islands ratifying British sovereignty, according to Argentine legislators that were received at the parliament in Dublin.

A delegation of Argentine lawmakers and with support staff from the Foreign Affairs ministry, this week visited Ireland to inform the country's parliament of Argentina's position regarding the sovereignty dispute over the Falklands/Malvinas.

Headed by the chairs of the Lower House and Senate Foreign Affairs committees, Guillermo Carmona and Daniel Filmus, the delegation follows on the tracks of the recent visit by Falklands elected lawmakers who also met with Irish members of Parliament.

"We received the support from our Irish peers regarding the compliance of UN Resolution 2065 which acknowledges the Argentina/UK dispute over the Malvinas Islands and which calls on both sides to resume negotiations", said Senator Filmus following a joint meeting of the Irish parliament two houses Foreign affairs committees chaired by MP Pat Breen.

"Despite the fact that not so long ago representatives from the Malvinas Legislative Assembly were here in parliament to explain their opposition, the Irish lawmakers said they supported the Argentine position and the fact that the recent referendum organized by the British in the Islands has no incidence on international law to that respect", added Senator Filmus.

The Irish describe themselves as "a people accustomed to reaching solutions on independence issues through dialogue and diplomacy, and rejecting all forms of violence" said Senator Filmus.

"In this way they agreed with the Argentine approach that the diplomacy and peace path is the only way of resolving the conflict, while at the same time expressing concern regarding the growing English militarization in the Malvinas zone" insisted the Argentine lawmaker.

After Parliament Carmona and Filmus, together with the rest of the Argentine delegation was received by the president of Ireland, Michael Higgins.

According to the Argentine delegation President Higgins said that the European community needs to stop looking at Latinamerica as 'just a market' and establish closer links and cooperation in all other fields, including the economy, culture, education and science and research.

At the March 10/11 referendum, the Falkland Islands turned out massively (92%) and with the exception of three ballots, overwhelmingly supported the current status quo as a British Overseas Territory.