"Venezuela is not part of Mercosur; it was not ratified by Paraguayan congress"
Sunday, June 16th 2013 - 15:39 UTC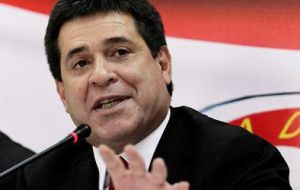 Venezuela "is not part of Mercosur, it was not ratified by the Paraguayan congress" according to one of the main foreign policy advisors of president elect Horacio Cartes who is scheduled to take office next August 15. Meanwhile Paraguay continues to advance it its intention of belonging to the Alliance of the Pacific.
The issue was brought up following an invitation by Uruguay's Foreign minister Luis Almagro to Lelia Rachid and Eladio Loizaga, president-elect Cartes foreign policy advisors to travel to Montevideo to inform them of the latest Mercosur decisions of which Uruguay currently holds the chair.
"We went to Montevideo to dialogue and listen to details of the Mercosur summit proposal. Our idea was to start a dialogue with the pro-tempore chair of Mercosur, Uruguay, but keeping at all times present the president-elect line on the issue: the return of Paraguay to Mercosur must be in full respect of our country's dignity, rule of the law and International Law principles" said Loizaga.
Allegedly Uruguayan minister Almagro "listened and said that the Mercosur summit originally programmed for the end of June would be postponed. It was only when we returned to Asuncion that we heard the summit was to take place 12 July"
Loizaga insisted there were no secret talks about how the active return of Paraguay to Mercosur would be implemented. "We had no negotiations of that sort much less following on the strict line drawn out by president elect Cartes and always respecting our national interests".
Asked specifically about Venezuela, Loizaga then replied: "It is not part of Mercosur; it was not ratified by the Congress of Paraguay".
A year ago Paraguay was suspended from Mercosur following the removal of Fernando Lugo from office and replacement by President Federico Franco. The removal was done following an impeachment process by the Paraguayan congress with an overwhelming vote and Lugo accepting the decision.
However Mercosur decided it was a 'congressional coup' and suspended Paraguay until new elections were held, while at the same time incorporating Venezuela as full member, despite the fact that the Paraguayan congress had repeatedly refused to consider the issue claiming former Venezuelan president Hugo Chavez regime was 'undemocratic' and there were no guarantees for the opposition.
According to Mercosur procedure, Venezuela this month takes the next six month pro termpore chair from Uruguay, meaning President Nicolas Maduro will be the figure head of the South American trade and customs groups.
Loizaga was then asked about Almagro's statement that on 15 August (when Cartes takes office) Paraguay will be back in Mercosur, and Venezuela would be fully active in the block as chair.
"That has nothing to do with Mercosur: a line has been drawn and Paraguay is not going to move, we're talking about complying with the rule of law" replied Loizaga.
"Nothing behind doors: how are we going to accept (Venezuela) if Congress does not approve the adhesion protocol; we want a return of institutional legality to Mercosur. Dialogue does not mean at all we accept the current state of affairs, it's just the starting point for dialogue", underlined Loizaga.
Likewise current Paraguayan Foreign minister Jose Felix Fernandez claimed that the presidents of Argentina, Brazil and Uruguay don't have the political will for the return of Paraguay to Mercosur.
"There is not a clear signal to overcome difficulties. The chair of Mercosur in the hands of Venezuela is not a good news", said Fernandez. "The solution for the active return of Paraguay must come from the countries which adopted decisions that do not abide by international law"
The minister also pointed out to the recurrent changes of criteria of the other three countries, Argentina, Brazil and Uruguay.
"Originally the three Mercosur full members said that sanctions of Paraguay would last until new elections were held. Elections took place 21 April, and there has been no news. The Mercosur summit originally for the end of June was then announced for after 15 August when Cartes takes office, and now it has been scheduled for 12 July"
Meanwhile Paraguay has been moving ahead with its contacts with the Alliance of the Pacific (Chile, Peru, Colombia and Mexico): last month during the group's summit in Cali, Colombia, Asuncion's request to become an observer was formally accepted.
However former Paraguayan ambassador before the Organization of American States, Luis Enrique Chase Plate suggested the country should not hurry and wait to see how Mercosur reacts, since the European Union will not resume trade negotiations with an entity that violates international law and is going through its worst moment since its creation in 1991.
"There's no need to rush, Mercosur has a low rating in international politics. Mercosur has violated the law. The European Union will not negotiate with an entity that violates the law and as comments from acknowledged personalities from Argentina and Brazil have stated, Mercosur is disintegrating politically and juridically. We should not be scared, easy as she goes, things follow their own course. It's the answer of partners to Paraguay's dignity position", said former ambassador Chase Plate. .