Brazilian protestors clash over excessive expenditure in World Cup stadiums
Monday, June 17th 2013 - 07:01 UTC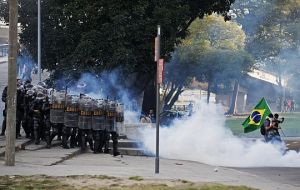 Police deployed tear gas and rubber bullets to disperse around 3,000 protestors from outside Rio de Janeiro's Maracana stadium ahead of the Confederations Cup match between Italy and Mexico on Sunday.
The demonstrators were attempting to enter the stadium in protest at the vast sums of money spent on the organization of the tournament and next year's World Cup, which Brazil is also hosting.
The demonstrators, mainly young, and many of whom wore the Brazilian flag, left the scene quickly after being prevented from accessing the freshly renovated arena.
Police said there were 3,000 protestors, but that their number could have swelled to 5,000 as people continued to arrive at the scene. The demonstrators started to mingle with supporters arriving for the Group A clash between Mexico and Italy, which was the first game in the tournament to be staged in Rio.
A strong police line reinforced with riot police, initially held protestors back -- only letting through supporters who displayed tickets -- before charging.
Prior to Saturday's opening game between Brazil and Japan in Brasilia, police broke up a similar protest with tear gas and rubber bullets, resulting in 33 injuries and 20 arrests.
The start of the competition has been marked by protests over the huge cost of preparations to host the World Cup, which is expected to reach 15 billion Euros.
Meanwhile, Brazilian media lashed out on Sunday at what they saw as an excessive police response to protesters ahead of Saturday's match in Brasilia.
"Fiesta inside (the stadium) ... war outside," was how Jornal de Brasilia daily headlined its coverage in juxtaposing that of the match with that of the protests.
The latest actions follow on a week of protests in Sao Paulo and Rio do Janeiro when demonstrators took to the streets against an increase in bus fares and the nerve-racking transport system in both cities, hindered by insufficient infrastructure to address the growing traffic.
Police reaction and handling of the bus-fare situation was considered by the media as 'outrageous' with hundreds of arrests, injured and at intervals firing tear gas and rubber bullets indiscriminately against protestors.
There was ample coverage on tape, pictures and cellular phones of unmarked police officers acting with unnecessary violence, or 'lack or training' for such situations, which also included nine journalist injured, some of them beaten and one with a rubber bullet fired at short range straight to her face.