Paraguay president-elect will not be attending Mercosur summit in Montevideo
Monday, June 17th 2013 - 16:07 UTC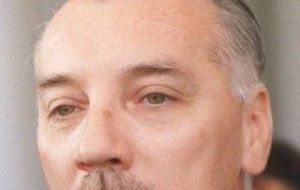 Paraguay president-elect Horacio Cartes ratified he will not be attending the coming Mercosur summit scheduled to take place July 12 in Montevideo, confirmed one of his foreign policy advisors since the Paraguayan position remains that "Venezuela is not a full member of Mercosur because the Paraguayan congress by overwhelming majority rejected such option in August 2012".
However "Cartes will be attending Mercosur future summits following his inauguration next August 15", said advisor Eladio Loizaga who last week travelled to Montevideo where he informed that the active return of suspended Paraguay to Mercosur must be done respecting the country's dignity, rule of the law and international law.
Paraguay was suspended from Mercosur June 2012 following the removal of Fernando Lugo from office that was impeached by the Senate, and overwhelmingly voted the drastic decision which was accepted by the ousted leader. However Mercosur and Unasur said Lugo's removal was a 'congressional coup' and suspended Paraguay from the group until new elections were held. Taking advantage of Paraguay's suspension the remaining full members, Argentina, Brazil and Uruguay immediately decided to incorporate Venezuela as full member of Mercosur.
"Sometimes the political must prevail over the institutional" said Uruguay president Jose Mujica at the time to justify the decisions.
Loizaga said that "we're in the stage of building a communication link. We can't be isolated of what happens but we are not going to negotiate Paraguay's dignity. Nevertheless we can't be absent from any dialogue because dialogue is the main tool of diplomacy".
"The situation is now in the hands of the Mercosur chair Uruguay, to decide on the next steps", said Cartes foreign policy advisor.
Loizaga emphasized that Mercosur must be aware that trade and cooperation negotiations with the European Union are round the corner and "the EU will not sit down to dialogue unless all full members of Mercosur are attending, which means Paraguay must be fully included".
The Paraguayan foreign policy advisor pointed out that this week G8 meets and the negotiations for an EU/US trade agreement will be displayed, and "we can't keep the Mercosur/EU talks stalled for years".