UN human rights commissioner calls on Brazil to react with moderation to social protests
Tuesday, June 18th 2013 - 15:12 UTC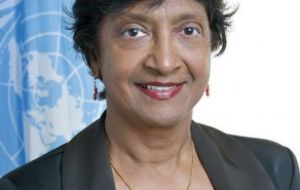 United Nations Human Rights Commissioner Navi Pillay has asked Brazilian authorities to react with moderation to the social protests that have spread through out the country and at the same time has called on demonstrators to avoid using violence to get their message heard.
Protests which took off last week in Sao Paulo against the increase in public transport fares have extended to over twenty cities of the 200 million people country and largest Latinamerican economy.
Pillay called on both sides to establish a dialogue table to help find solutions to the social demands which she considered 'valid'.
"With more protests planned, we are concerned that the excessive use of force by police forces could be repeated", said Pillay in a written statement recalling that these urban demonstrations are the most important in Brazil in the last two decades.
"We have received reports of injured and arrests including that of journalists covering the protests".
Claims have also arrived to the UN Human Rights commissioner office in Geneva showing arbitrary arrests of innocent pedestrians that were not involved in the protests.
Pillay praised President Dilma Rousseff for her comments acknowledging the legitimacy of the demonstrations as well as the instruction to Sao Paulo to cease using rubber bullets.
"We call upon the government of Brazil to take all necessary measures to guarantee the right of assembly and avoid the use of disproportionate force during the protests", said the High Commissioner. She also indicated her office expects a quick and independent inquiry into the alleged abuses committed by the police forces involved in fighting back demonstrators.
Besides the increase in public transport fares, social protests also reflect the disenchantment of a growing sector of the Brazilian population with the government's spending of billions of dollars in preparing the country to host the current Confederation Cup, the 2014 World Cup and the Olympics in 2016, while public health and education are mostly in dilapidated conditions.