Argentine Coast Guard catches Chinese jigger with 180 tons of fresh squid
Wednesday, June 19th 2013 - 00:30 UTC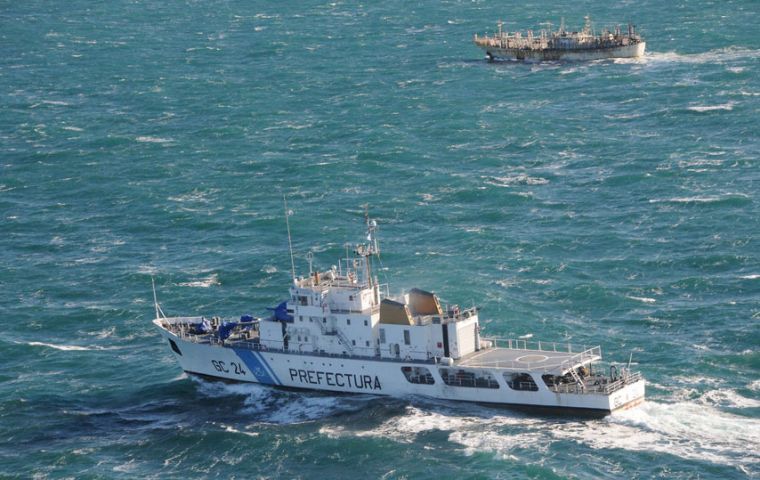 An Argentine Coast Guard vessel during a routine patrol caught a Chinese flagged jigger with 180 tons of fresh squid in its hold, and is now being escorted to the Patagonian port of Puerto Madryn where she is expected to arrive Wednesday midday.
The jigger Fu Yuan Yu 873 was sighted 370 kilometres off Peninsula Valdes and was ordered on several occasions, in English and in Spanish, and following international protocol to halt so a special Coast Guard party could board her.
According to the official release the Chinese jigger fishing in Argentine waters with no licence, at first refused to obey and tried to flee from the patrol vessel GC-24 Mantilla but finally halted and was boarded when the 180 tons of squid were discovered in the hold together with clear evidence of fresh squid on deck and that the vessel had been operating.
"The jigger should be arriving at the latest Wednesday midday. She has a crew of 29 and we found 180 tons of fresh squid in her hold, and yes at first she tried to ignore us and flee but finally halted", said Jorge Alberto Castello head of the Argentine Coast Guard detachment in Puerto Madryn.
He added that the jigger originally from Fu Zhou had been operating in Argentine waters for some time. "We have contacted the Chinese consulate and as the investigation advances we'll know what is to happen with the vessel and as to the squid, most probably the Fisheries Directory will decide the fine depending on the volume of squid she was carrying".