Malvinas C24 Argentina petitioners: Maria Angelia Vernet and Alejandro Betts
Wednesday, June 19th 2013 - 02:56 UTC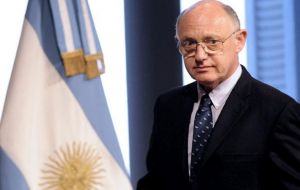 Maria Angelica Vernet and Falklands' born Alejandro Betts will be Argentina's petitioners at Thursday's June 20 United Nations Decolonization Committee session in New York when the Falklands/Malvinas Islands sovereignty dispute will be addressed.
The Argentine delegation is headed by Foreign minister Hector Timerman and includes several governors and lawmakers from all parties with political representation in Congress.
According to the release from the Argentine Foreign ministry, Timerman will ratify Argentina's full commitment to finding a peaceful solution to the sovereignty dispute, which so far has not been possible because of "the systematic refusal from the UK to resume negotiations as suggested by UN numerous resolutions". The situation has been further aggravated "by British unilateral actions in the disputed zone that include the development of renewable and non renewable natural resources exploration and exploitation illegitimate activities and periodical military exercises".
Argentina has been participating at the Falklands/Malvinas question C24 annual meetings in New York since 1989 and last year on the thirtieth anniversary of the Argentine military invasion of the Falklands, the delegation to C24 was headed by President Cristina Fernandez, who also called on the UK to dialogue to find a solution to the ongoing sovereignty controversy.
Maria Angelia Vernet is a direct descendent from Luis Vernet, who was head of the Political and Military Command of the Malvinas Islands and adjacencies to the Cape Horn and Atlantic Sea, "at the moment of the British usurpation in 1833", reads the Argentine release.
Alejandro (Alex) Betts "Argentine born in Malvinas" is a resident of Cordoba province since the beginning of the eighties.
The rest of the Timerman delegation includes the governor of Tierra del Fuego, Antarctica and South Atlantic Islands, Fabiana Rios; the Argentine ambassador before the UN, Maria Cristina Perceval; governors of Santa Fe and Misiones, Antonio Bonfatti and Maurice Closs; Senators Marina Riofrio, Osvaldo Lopez and Ruben Giustiniani and Lower House members Guillermo Carmona , Carlos Heller, Juan Carlos Zabalza and Pablo Tonelli.