Ironic Argentine president attacks Supreme Court: "Cristina will run for Judge in 2015"
Friday, June 21st 2013 - 06:31 UTC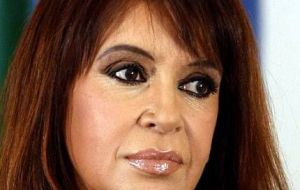 Still licking the wounds from her defeat at the Supreme Court that ruled unconstitutional several articles of her attempted and controversial judicial reform, Argentine president Cristina Fernandez ironically said she would be running for judge in 2015 and pledged to continue fighting.
Describing Argentina's democracy as a political process that "cost Argentines" so much, and which will demand "many more efforts" to be strengthened and to protect people's right to vote, the President hit back saying "You know now: Cristina will run for judge in 2015."
"It would not be strange if they issue an injunction that won't let us elect presidents and lawmakers" Cristina Fernández insisted.
"This is not a dispute of constitutional nature; it is simply the right of Argentina's 40 million people to have a better life and I will continue to risk everything for that as I have done it all my life," added Cristina Fernández.
"I am not here to campaign" the president told thousands of Kirchnerite activists and supporters gathering at the Flag monument in the city of Rosario Wednesday night and went on to call for further efforts to deepen Argentina's current economic and social plans that, she underlined "led Rosario's citizens to progress."
Earlier this week, Argentina's maximum tribunal declared that the judicial reform recently signed into law allowing citizens to elect the members of the Council of Magistrates (that nominate, sanctions and fires judges) under party ballots was "unconstitutional."
Reacting to Cristina Fernandez speech, Cordoba Governor José Manuel de la Sota assured that the administration is seeking a constitutional reform "before 2015".
While adopting a critic tone, De la Sota proposed to ask candidates running for Congress what he considered to be "an essential question": "Are you willing to vote for a Constitutional reform or not?" He said that "there cannot be greys on this."
The governor later referred to Estela de Carlotto's (from the Grandmothers of Plaza de Mayo organization) statements in favour of a constitutional amendment, as a signpost to Cristina Fernández possible intentions.
"She suggested the same thing that Estela de Carlotto suggested yesterday, which is a constitutional reform", concluded De la Sota.
The divided Argentine opposition has long feared that Cristina Fernandez is planning a review of the constitution that would open the way for her to bid a second consecutive four year mandate in 2015, with that option currently banned.