Mercosur summit in Montevideo will consider lifting Paraguay's suspension
Friday, June 21st 2013 - 06:37 UTC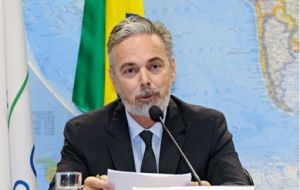 Brazilian Foreign minister Antonio Patriota confirmed on Thursday that Paraguay's suspension from Mercosur will be in the agenda of the coming presidential summit, next 12 July in Montevideo.
"It'll be in the agenda" of the presidents at the summit, said Patriota during a hearing at the Senate, when asked about Paraguay's suspension from Mercosur following the removal from office of Fernando Lugo.
"The issue will be debated and there will be deliberations on the future" of the situation added Patriota to the Brazilian Senate but did not disclose if a decision can be expected from the presidents on 12 July.
Paraguay, one of four founding members of the trade and customs groups, but increasingly political, was suspended in June 2012 from Mercosur after the Paraguayan Senate impeached Lugo and almost unanimously ousted him. Lugo said at the time he accepted the decision.
However the three other members not only suspended Paraguay until the next presidential election but at the same time approved the incorporation to the block as full member of Venezuela, which was on hold because of the Paraguayan Senate refusal to have former Venezuelan president Hugo Chavez inside the group.
Mercosur decisions on new incorporations must be by consensus. Horacio Cartes who was voted president last April 21 and is scheduled to take office on 15 August, has anticipated he will not attend the Montevideo summit.