FCO Director for Europe next British ambassador to Spain
Saturday, June 22nd 2013 - 05:55 UTC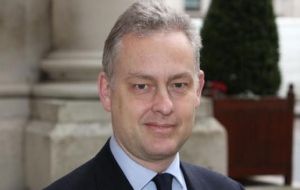 The British Government has appointed a new ambassador to Spain. Simon Manley will succeed Giles Paxman as the UK's ambassador in Madrid and non-resident ambassador to Andorra. He takes up the post in October.
"I look forward to working in Spain with one of our largest trading partners, a key ally within the EU and NATO, and holiday destination for, and home to, so many Britons," Mr Manley said.
The new ambassador said he was "…delighted and honoured to be appointed to serve the United Kingdom in these two beautiful countries."
Mr Manley, who is married to Maria Isabel Fernandez Utgès Manley and father to three daughters, joined the Foreign and Commonwealth Office in 1990.
Since then he has worked in numerous senior roles, most recently as the FCO director for Europe based in London.
Prior to that he was the FCO's director for defence and strategic threats, a post he took up after a short stint as head its counter terrorism policy department.
Four years ago, as director for defence and strategic threats at the FCO, Mr Manley became embroiled in a controversial high-profile court action relating to claims of British involvement in torture.
In a public statement at the time, he said demands by two high court judges that CIA material be made public had harmed Britain's intelligence services and diplomatic relations with the US.
In a 2009 article, the Guardian newspaper described the statement as "an extraordinary intervention".