Mercosur 'good offices' delegation in Paraguay to talk with president-elect Cartes
Saturday, June 22nd 2013 - 05:33 UTC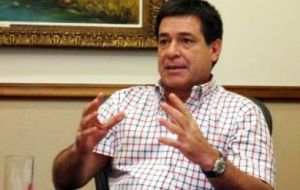 Paraguayan president elect Horacio Cartes held a meeting on Friday at his home with former Chilean president Ricardo Lagos and the Ibero-American secretary general Enrique Iglesias to talk "about Mercosur issues and Paraguay's suspension from the block", according to sources close to the meeting.
"Mercosur current situation, the political suspension of Paraguay from the block in June 2012 and possible ways for an active return are some of the issues which were addresses in a most friendly atmosphere", added the sources pointing out that the two-men delegation is a non-official (official) 'good offices' attempt to overcome the current scenario.
Previously the two leaders met with current president Federico Franco, but in both cases left without making any comments about the round of contacts.
Paraguay which has the political support from the European Union is demanding from Mercosur acknowledgement of the country's dignity, rule of the law, institutions and international law.
The problem goes back to a year ago when following the removal of Fernando Lugo and his replacement by Federico Lugo, according to the Paraguayan constitution impeachment procedure, with an almost unanimous vote in the Senate and Lugo's acceptance of the decision, Mercosur described the situation as a 'congressional coup' and suspended Paraguay.
Concomitantly and taking advantage of the situation the three Mercosur full members, Argentina, Brazil and Uruguay decided the incorporation of Venezuela as full member, a decision that was on hold since the original request in 2006, because the Paraguayan Senate objected to 'non-democratic' Venezuelan leader Hugo Chavez in the block.
Mercosur decisions according to the founding charter are decided on consensus.
The original idea to circumvent the irritating situation and no side losing face was for the coming Mercosur summit to the suspended until after August 15 when Cartes takes office. However at last moment Uruguayan Foreign minister Luis Almagro said the summit to take place in Montevideo will be held next July 12.
Cartes who was invited to the summit in Montevideo advanced he would not be attending, until proper conditions are met.
From Brazil Marco Aurelio Garcia the Executive advisor for foreign affairs said that the incorporation of Venezuela as full member of Mercosur is a "non going back decision", which Paraguay must accept. Furthermore one of the conditions to have suspended Paraguay and have the country back in the block as an active member has been accomplished: "the presidential election in Paraguay was clean and transparent".
Likewise the spokesperson for the Brazilian Foreign ministry, Tovar da Silva Nunes said that the inauguration of Cartes "eliminates the non-democracy circumstance" in Paraguay. He added that Mercosur leaders will meet on 15 August following the ceremony to approve the lifting of the suspension.
"It does not make sense for Mercosur to accept Paraguay now when it is ruled by a government we consider illegitimate; that was the reason why Paraguay was suspended both from Mercosur and Unasur", insisted da Silva Nunes.