Abortion law in Uruguay stands; insufficient support to force a repeal referendum
Monday, June 24th 2013 - 19:09 UTC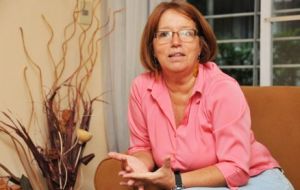 A liberal abortion law in Uruguay withstood a challenge Sunday as Uruguayan opponents failed to attract enough votes in a consultation ballot to force a national referendum on repealing it.
The law authorizing elective abortions in the first three months of pregnancy was narrowly passed by Congress in October, and independent groups and some members of the opposition parties have been campaigning to overturn the measure.
Opponents needed 655,000 voters, a quarter of Uruguay's electorate, to cast ballots Sunday calling for a referendum. But with nearly all votes counted late Sunday, the electoral council said on its website that only 226,653 people participated.
Feminist groups and abortion-rights advocates celebrated.
"The fact that it wasn't enough for a referendum clearly shows that the Uruguayan society is willing to continue moving forward," the activist group Woman and Health said in a statement.
Passage of the law was widely seen as a landmark for a region in which many countries outlaw abortion in all circumstances. Other than Uruguay, only Cuba and some local governments make early abortions accessible to all women.
The ruling Broad Front coalition of President Jose Mujica argued that the law would save many women from the risk of death or complications from illegal abortions.
"I want to defend the law because this issue has been debated for almost 100 years and many women paid with their lives," lawmaker Monica Xavier said on the Broad Front's website before Sunday's results were announced.
Opposition to the measure remains strong, however. Dozens of doctors have refused to perform abortions for religious or ethical reasons.
"This is not an issue that only pertains to women," said National Party congressman Pablo Abdala. "We can't forget about the conceived (baby) ... with organs, DNA, a heart. And then there's the father. This law doesn't take into account the opinion of the father."
Several Uruguayan celebrities and sports figures participated in radio and television spots ahead of the consultation ballot urging people to vote to require a referendum that would allow "profound discussion to reach a decision that truly represents the majority."
About 20 feminist organizations and unions waged a counter-campaign using the motto "I won't vote. What about you?" They argued that a ban would not curb abortions, but only keep women from getting proper care.
About 400 abortions a month have been conducted since the law took effect, Deputy Health Minister Leonel Briozzo said. It's unclear how many were carried out before the law.
"We don't have trusted statistics because it is a social practice that is not accepted and up until recently it was a crime," Constanza Moreira, a ruling-party lawmaker, told local radio.
About 45,000 babies are born each year in Uruguay, which has about 3.2 million people.
Several polls say Uruguayans are roughly split when it comes to abortion, and abortion-rights proponents had to make compromises to pass the law. Those include a requirement that women justify their request for an abortion to a panel of at least three professionals -- gynecologist, psychologist and social worker -- and listen to advice about alternatives including adoption and support services for a child. Women must then wait five days to reflect on the decision.