Ecuador confirms Edward Snowden has formally requested for asylum
Monday, June 24th 2013 - 08:20 UTC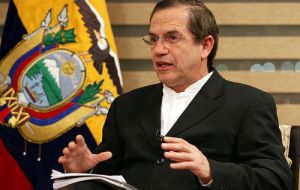 Ecuador's foreign minister said his country was "analyzing" a request for asylum by fugitive US intelligence whistleblower Edward Snowden who is currently in Moscow
"We will make a decision... we are analyzing it," Foreign Minister Ricardo Patino told reporters in Hanoi on Monday of the request by Snowden who is on the run from US authorities over his explosive leaks on US intelligence methods.
"It (the request) has to do with freedom of expression and the security of citizens around the world. We always act by principle not in our own interest. There are some governments who act more on their own interests, we do not," he added.
Snowden, a former National Security Agency (NSA) contractor, arrived in Russia on Sunday from Hong Kong, hoping to win asylum in Ecuador and evade arrest after leaking sensational details of secret US surveillance programs.
He was expected to head to Ecuador via Cuba and foreign correspondents at Moscow's Sheremetyevo airport saw an Ecuadorian flagged diplomatic car at VIP arrivals.
"We know he is in Moscow, we're in talks with higher authorities," Patiño, who is on an official visit to Vietnam, said.
The South American country, led by outspoken populist President Rafael Correa, has been sheltering WikiLeaks founder Julian Assange, who is wanted by Sweden, at its London embassy for the past year.
US authorities have been severely embarrassed by Snowden's revelations of intelligence trawling by the NSA of phone call logs and Internet data, prompting concern from governments around the world and outrage from privacy campaigners.
Snowden made the revelations from Hong Kong which allowed him to travel to Moscow, prompting criticism from US authorities have laid charges including of theft and espionage against the whistleblower.