Francis will meet indigenous leaders abused and persecuted in northern Argentina
Monday, June 24th 2013 - 08:18 UTC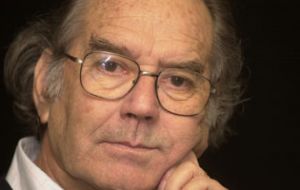 Following a request made by Nobel Peace Prize winner Adolfo Pérez Esquivel, Pope Francis is scheduled to meet on Monday with Félix Díaz, the chief of the La Primavera Qom indigenous community from northern Argentina.
The meeting will be attended by Pérez Esquivel, who has already met with the recently-elected Argentine pope, and by Díaz's partner Amanda Asij. Díaz has been refused meetings with President Cristina Fernández despite repeated requests and camping outside Government House in Plaza de Mayo.
The objective of the meeting will be to "tell Francis about the serious human rights violations suffered by the indigenous communities in Latin America," Pérez Esquivel said in a press release. Pérez Esquivel also criticized the Catholic Church.
The human rights activist said that "the Catholic Church had an active role in the conquest of America and was an accomplice in the genocide of the indigenous people." Nevertheless, he acknowledged that "many priests worked side by side with the indigenous people against oppression."
The Qom community and numerous social organizations have been protesting every Wednesday in Plaza de Mayo to demand a meeting with the president.
They claim that the rights of indigenous people are being violated in the northern provinces of Argentina, and also complain about police brutality against their communities.
"Many of the indigenous people's human rights are being violated every day, and authorities do not investigate or punish those abuses" Díaz told the Buenos Aires media.
Jorge Lozano, head of the Social Pastoral Commission of the Argentine Synod, anticipated a month ago that Pope Francis had expressed his solidarity to the indigenous people.
Responding to the allegations of human right violations, the Argentine Supreme Court urged the province of Formosa to mark off the territories that belong to the Qom community. However Formosa Governor Gildo Insfrán did not attend a conciliation hearing called by the Supreme Court.
Pérez Esquivel met with the Pope in a private audience on March 21 where they discussed "the new roads of the Church, with a focus on those who are deprived of the most elemental rights."
"We discussed human rights and how they should not be limited to the crimes of the last military dictatorship," Pérez Esquivel said after his meeting with the Pope.