Messi paid €10 million to correct tax returns for 2010/2011, says La Vanguardia
Monday, June 24th 2013 - 19:04 UTC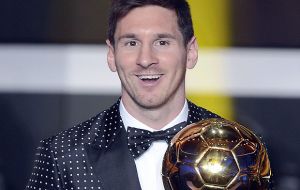 Barcelona striker Lionel Messi, who turned 26 on Monday and is under investigation in Spain for tax fraud allegations, paid €10 million to the Spanish tax authorities to correct tax returns for 2010 and 2011, according to Spanish media reports.
The news, reported by La Vanguardia newspaper and citing unnamed sources, comes one week after Messi and his father, Jorge Messi, were summoned to a September 17 court date complaint alleging that the duo defrauded the Spanish tax office of €4m earned from image rights on Messi's income tax returns from the years 2007, 2008 and 2009.
Messi in recent days made the €10m payment to the Spanish tax authorities for "image rights income," La Vanguardia reported on Monday, adding that a source told the newspaper Messi seeks a deal that would allow him to clarify what occurred over the three years in question.
Messi has denied wrongdoing. He has received public backing from Barcelona club president Sandro Rosell and former president Joan Laporta, who was in charge during the years of the alleged fraud.
The 26-year-old Messi is widely considered the best player of his generation and one of the best in history after winning an unprecedented four straight FIFA World Player of the Year awards.
Messi, who is rated by Forbes as the world's 10th highest-paid athlete, reportedly earned 41.3m dollars to June this year; with 20.3m coming from his club salary and 21 million in endorsements.
State prosecutor Raquel Amado alleges that from 2006-09 Messi "obtained significant revenue derived from the transfer to third parties of his image rights, income which should have been taxed."
Messi is not the first athlete to be investigated in Spain for taxes.
Last year former Portugal star Luis Figo was forced to pay €2.45m in income tax pertaining to image rights from 1997-99 while playing for Barcelona. In 2009, former top-ranked women's player Arantxa Sanchez-Vicario had to pay millions in back taxes.
Messi leads an apparently quiet life focused on his family - he became a father last year - and is a universally liked figure in Spain and abroad. He has scored 133 goals for Barcelona over the last two seasons and helped it win its fourth Spanish league title in five seasons this year.