Foreign Office protests to Spain chase and shooting incident in Gibraltar waters
Tuesday, June 25th 2013 - 18:20 UTC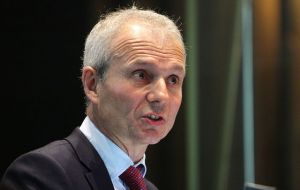 British Minister for Europe David Lidington strongly protested on Tuesday to Spanish Minister, Íñigo Mendez de Vigo, following an incident in British Gibraltar territorial waters, when allegedly shots were fired.
"I spoke today with Spanish Minister for the European Union, Íñigo Mendez de Vigo, in order to protest in the strongest terms following an incident on 23 June in British Gibraltar Territorial Waters (BGTW). During an illegal incursion by a Guardia Civil vessel, a Guardia Civil officer fired a weapon.
"I made clear that the discharge of a weapon in or near Gibraltar is completely unacceptable. I urged Señor Mendez de Vigo to investigate urgently and to take action to ensure that this will not happen again.
"I can also confirm that I have instructed the Chargé D'Affaires in Madrid to reiterate this protest in person to the Spanish Ministry of Foreign Affairs and to request a full explanation".
The incident is said to have occurred on Sunday evening and apparently four shots were fired at two people on a jet ski as they were chased by a Guardia Civil vessel. A short video clip posted on Facebook showed grainy footage of the chase. A loud pop resembling a gunshot can clearly be distinguished in the accompanying audio.
The Royal Gibraltar Police said it was investigating details of the incident.
"The Government has been in close contact already with the RGP in assessing the information available," No.6 Convent Place said in a statement.
"The facts are in the process of being fully determined and when they are, decisions will be made as to how best to react to the incident."
A spokesman for the Convent said British officials were also aware of the incident on Sunday evening.
"The Royal Navy Gibraltar Squadron challenged the unlawful incursion by Guardia Civil vessel Rio Cedena around the Western Beach area and the vessel departed BGTW," the spokesman said.