Lead case in Uruguay: Herbicide-spraying company forced to pay compensation for fumigating school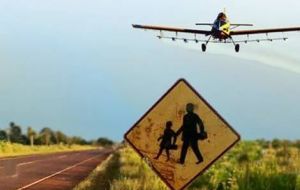 A Uruguayan rural school teacher who suffered the consequences of agro-toxics spraying from neighbouring soybean crops has won a civil court demand against the fumigation company. The court ruled that Agronegocios del Plata, ADP, must compensate Silvia Nobelasco the equivalent to 6.800 dollars.
"My intention was not the money, but rather setting the issue on record so people are encouraged to file claims against the excesses of these companies involved in soybean intensive agriculture and spraying without taking the necessary precautions", said Ms Nobelasco.
It all started in April 2012 when Ms Nobelasco was at her post in the government two-classes rural school she runs in Rolon, to the west of Uruguay, in one of the country's prime agriculture land and which in a few years has moved from cattle grazing to the planting of grains and oilseeds, mainly soybeans.
At that time of the year, April-May it is common to see heavy machinery, harvesters operating in the fields next to the school which is surrounded by crops. But towards mid afternoon it was becoming too noisy and as Ms Nobelasco was approaching the foreman's trailer to complain that according to law there are limits as to how close to school grounds they can operate, when a 'mosquito' spread its arms and sprayed her with the pesticides used in agriculture.
Under Uruguayan regulations 'mosquitoes' must operate at least 500 metres away from schools and wherever people live.
"I tried to reach the trailer and tell them to let us know if they were going to fumigate. They must do so, it's not only the law but ethical common sense" said Ms Nobelasco.
The following day the teacher woke up itching "from head to toes" and with some respiratory problems.
She immediately went to the nearest civil and crime court in the town of Young and filed the complaint against the fumigating company. The teacher also filed complaints at the Ministry of Agriculture, Ministry of Healthcare and Ministry of Labour.
The Ministry of Agriculture determined that the fumigators using glyphosate and 2-4 Amine weed-killer and other herbicides had effectively broken the 500 metres rule and had sprayed just a few steps away from the rural school grounds.
Glyphosate is a broad-spectrum systemic herbicide used to kill weeds, especially annual broadleaf weeds and grasses known to compete with commercial crops grown.
The itching and head aches lasted for three months and even today Ms Nobelasco, who has been transferred to another rural school admits to "smelling agro-toxics and feeling her chest contracts"
In June 2012 Uruguayan courts summoned the Ministries of Environment, Healthcare and Agriculture to deliver information on how they respond to claims that fumigating companies spray agro-toxics too close to schools and rural dwellings.
Prosecutor Enrique Viana praised the ruling of the Nobelasco case because this goes to show that if they 'paid compensation they are admitting responsibility".
However the Uruguayan branch of the Network of Action against Pesticides has reported that this is not the only case and that other claims have failed to obtain a favorable ruling.
Another complaint form an environmental group was filed before the Uruguayan Senate arguing that poorly controlled spraying is contaminating natural water sources.