Paraguay poised to become fastest growing economy this year, 13%
Tuesday, June 25th 2013 - 18:34 UTC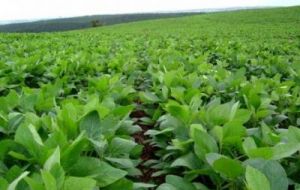 Paraguay's economy expanded 14.8% in the first quarter compared with the same period last year, driven mainly by farming, cattle-ranching and construction activity, the central bank said. GDP surged 8.8% in the first quarter versus the fourth quarter of 2012.
A severe drought last year slashed soybean output, leading to a 1.2% economic contraction in 2012. Paraguay is the world's No. 4 soy exporter, although it lags far behind the top three global suppliers.
The central bank forecasts growth this year at 13% largely due to a rebound in grains production, making the landlocked country the fastest growing economy in Latam and probably worldwide.
"2013 began in a way that's diametrically opposed to last year, when GDP was hurt from the start by the effects of adverse climate conditions on the agricultural sector," the central bank said in a report.
"The first quarter of this year has seen favourable crop weather in general, to the point where we could reach record farm production," it added.
At the same time, the beef and livestock sectors are flourishing after an outbreak of foot-and-mouth disease in late 2011 hurt exports.
Agriculture soared 47.4% and livestock and beef industry, 10.8% and construction boosted by private investments and public works in infrastructure climbed 18.1%.
The central bank revised its previous quarterly figures, saying GDP contracted 0.9% year-on-year in the fourth quarter while expanding 0.8% versus the third quarter.
The country debuted on global credit markets in January with the sale of 500 million dollars in 10-year bonds, and more international debt could be issued in the future.