Iguazu Falls Park closed because of heavy rains and flooding
Thursday, June 27th 2013 - 05:07 UTC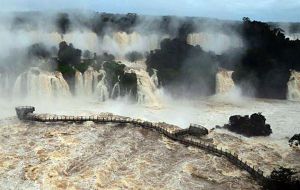 Pouring rains and floods have forced the closure of the Iguazu Park, home of the world's most famous waterfalls in the heartland of South America, shared by Argentina and Brazil, according to reports from the Argentine navy outpost in Puerto Iguazú.
The flooding has forced the evacuation of at least 500 families from their homes on Paraguayan soil which is part of the mighty Parana river basin that runs from the Pantanal (marshy lands) well inside Brazil to the River Plate.
The catwalks and sight posts, from where tens of thousands of visitors every year contemplate and listen to the fantastic waterfalls have been covered by water. Likewise the vessels that take tourists sightseeing along the huge lake where thousands of tons of water pour every second have also been cancelled.
Further up the Parana river authorities have been forced to open the lock-gates of the world's largest operating hydroelectric dam, Itaipú to ease the impressive flow of water, which is also partly responsible for the unusual flooding at Iguazú.
Authorities estimate that before the mighty Paraná returns to its normal flow and course, up to 10.000 people living close to the river in the Iguazú falls area will have to be removed and taken to government refuges.
Municipal crews, police forces, fire fighters and citizens' support groups have been helping to evacuate the families exposed to the floods, which are expected to continue for another week.