London cabs with publicity inviting to visit and enjoy Uruguay
Thursday, June 27th 2013 - 05:14 UTC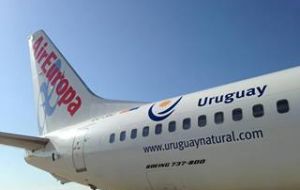 Sights of the Atlantic beaches from the hills surrounding the Uruguayan coast can be admired while travelling to Piccadilly Circus or to Westminster Palace in any one of the 75 London cabs with publicity contracted by Uruguay's Ministry of Tourism began on the 17th June.
The ads are part of a publicity campaign launched by the Uruguayan ministry together with Air Europa, a Spanish airline which a few weeks ago established a regular link between Montevideo and Madrid with connections to London and other European cities.
"Both agreements with Air Europa and Air France (that also resumed flights to Montevideo) contemplate a raft of shared actions" said the head of the Tourism Office Benjamin Liberoff who added "now that we have the connectivity the idea is to bring tourists to Uruguay".
The official London cabs campaign was launched this week and will last for three months.
Liberoff also revealed that the brand 'Uruguay Natural' (organic Uruguay) will be promoted in Madrid's EL Pais, ABC, the COPE and SER media chains and in specialized magazines.
"In July we are planning for another group of Spanish tourism journalists to visit Uruguay and in September we are inviting some travel agencies from Germany; in October probably from the UK, and now we are concentrated in London ahead of the World Travel Market scheduled for November" pointed out the Uruguayan official.
Uruguay will also be present in tourism fairs next September in Argentina and Brazil.