Chile's Bachelet easily beats rivals for new presidential bid
Monday, July 1st 2013 - 05:47 UTC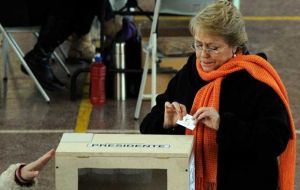 Former Chilean leader Michelle Bachelet steamed toward another presidential bid on Sunday with a lopsided primary win that prompted her center-left rivals to concede early in the evening and vow to support her in the November election.
On the right, former Economy Minister Pablo Longueira will face an uphill battle against Bachelet, after he beat out rival Andres Allamand.
Bachelet, 61, who led Chile as its first female president from 2006 to 2010, received 73.07 percent of the vote, with 99.7 percent of the vote counted. Her two closest rivals in the primary, Andres Velasco and Claudio Orrego, conceded defeat on national television.
"We'll keep fighting until November 17 to get to the Moneda (presidential palace) in 2014," Bachelet told cheering supporters.
The presidential election is scheduled for November 17 and a second round of voting would be held in mid December if the front-runner does not get more than half of the votes.
A pediatrician turned politician and single mother of three, Bachelet is widely expected to win back the presidency.
"The big winner tonight is Bachelet and the big losers are Allamand and Longueira, she got twice as many votes as they did ... the race in November will be for second place and not for first because if Bachelet doesn't win in the first round, she'll win the run-off election," said Patricio Navia, professor at New York University and Universidad Diego Portales.
Bachelet received over 1.5 million votes, compared with Longueria's 413,000 and Allamand's 391,000, according to preliminary figures.
A victim of torture during Chile's dictatorship, Bachelet was one of the country's most unusual presidents since its return to democracy in 1990. After leaving office she served as the head of U.N. Women, the United Nations' gender equality body.
Chile's present leader is Sebastian Pinera, a wealthy businessman who has struggled to connect with ordinary Chileans and is barred from running for immediate re-election.
Voters from Pinera's conservative Alianza coalition gave Longueira 51.35 percent, versus former Defense Minister Allamand's 48.64 percent, according to preliminary figures.
"Having won these primaries in two months is the best proof that if we get to work tomorrow we're going to win the presidential election in November," said a jubilant Longueira.

He took the place of businessman Laurence Golborne midway through the primary campaign, after Golborne abandoned his candidacy over a billing scandal and allegations of undeclared offshore assets.
Longueira is hampered by having served under unpopular Pinera, who broke 20 years of uninterrupted center-left rule when he took power in 2010. Longueira's close relationship to ex-dictator Augusto Pinochet, is also seen as an impediment to a presidential run.
Bachelet has promised to tackle Chile's steep economic inequality by raising corporate taxes to fund free university-level education and push for a new constitution to replace the one created under Pinochet in 1980.
However, she is not expected to stray far from the market-friendly economic policies that have helped make Chile one of the most stable countries in the region.
Nearly twice as many voters as forecast turned out on Sunday, which analysts have said bodes well for Bachelet in November.
Analysts had cautioned that turnout has been a wild card since voting became voluntary last year, as opposed to mandatory, and that disenchantment with the political establishment could keep many voters at home.
Chile, the world's top copper-exporting nation, is ranked the most unequal country in the 34-member Organization for Economic Cooperation and Development (OECD).
Bachelet, who belongs to the socialist party, expanded welfare programs during her rule but did little to disturb the country's free-market economic policies.
She appears to have swung further left since leaving office, however, in line with escalating demands by students and workers. Some of her proposed social policies - which include legalizing abortion in select cases and authorizing gay marriage - would mark a big change for traditionally conservative Chile.
Education is a crucial electoral issue as well because students, parents and teachers have taken to the streets over the past two years to press for free and improved education.
Many Chileans voted in high school buildings that were occupied for weeks by students demanding education reform. They were evicted by police on Thursday.
Candidates from smaller parties or independents, who will not participate in the primaries but are slated to be on the presidential ballot, could push the November election to a run-off. Whoever is elected will take office in March 2014. (Reuters)