Timerman warns about South Atlantic nuclear threat
Tuesday, July 2nd 2013 - 02:10 UTC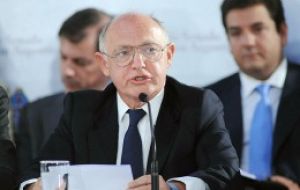 Argentine Foreign Minister Hector Timerman ratified his government's "commitment with nuclear safety" and warned about the continued dangers of "militarization in the South Atlantic Ocean."

Timerman was speaking at International Atomic Energy's (IAEA) International Conference on Nuclear Security: Enhancing Global Efforts, which opened in Vienna yesterday.

The Foreign Minister expressed his concern over "non-regional actors with military bases in the South Atlantic Ocean should continue not contributing the necessary information about the possible introduction of nuclear armament in this nuclear weapon free zone."

"There can be no doubt that this is a situation of undeniable relevancy for the nuclear safety in the South Atlantic Ocean and in the world ', Timerman said in his speech

Timerman and 33 ministers representing the countries with advanced nuclear technology, as well as delegations of 123 countries, met in the Austrian capital to work out joint policies aimed at strengthening nuclear safety.

Following the day's talks, IAEA issued a ministerial statement in which they state that "despite the substantial progress in strengthening nuclear security in recent years, more needs to be done worldwide to defend against the threat of nuclear terrorism and other malicious acts involving nuclear or radiological material."

The conference will analyse past and current efforts and consider how future challenges can best be met to ensure effective and sustainable nuclear security worldwide.

The Conference, which ends on Friday, includes representatives from 123 countries and 21 governmental and non-governmental organizations.

In his speech Timerman also emphasized that Argentina is among the group of "peace loving" countries with a firm commitment to the implementation of the "necessary actions to prevent the pacific use of nuclear energy being abused for weapons or for threatening others."

"We know that the handling of nuclear technologies and, in particular, that of the finished cycle of nuclear fuel, demands not only scientific and technological excellence, but also an enormous zeal and responsibility in the handling of all the nuclear materials" he concluded.