Brazil's growth refuses to take off, despite all of government incentives
Friday, July 5th 2013 - 23:35 UTC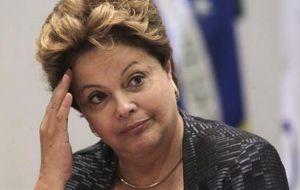 Brazil's industrial output fell 2% in May after jumping a revised 1.9% in April, the national statistics agency announced this week in Rio de Janeiro. The fall was greater than forecasted but still was 1.4% above a year ago. However as the government or President Dilma Rousseff struggles to fight inflation, the latest data complicates the strategy to prop growth.
President Rousseff administration has slashed payroll taxes for dozens of industries and cut electricity rates in a bid to boost production. At the same time, the central bank started raising rates in April to tame inflation above the upper range of the target. Amid slower-than-forecast growth, industry confidence in June fell to its third-lowest level since 2009.
Industry contracted 0.3% in the first quarter from the previous three months. That drag on Brazil's economy caused total GDP to grow 0.55%. Economists surveyed by the central bank reduced their 2013 growth forecast for the seventh straight week to 2.4%.
Brazil's central bank accelerated the pace of interest rate increases in May in a bid to slow inflation that is hurting economic growth. The bank, which has increased its Selic rate by 75 basis points since April, will hold its next monetary policy meeting on July 9-10.
Consumer price inflation accelerated to 6.67% in the year through mid-June, exceeding the top range of the central bank's target of 4.5% plus or minus two percentage points.