Spain calls for calm over Bolivian plane incident, but anticipates 'no apologies'
Friday, July 5th 2013 - 22:52 UTC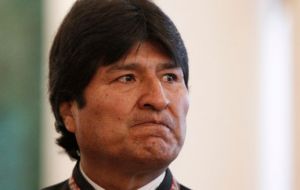 Spain called for calm on Friday in a diplomatic row ignited when Bolivian President Evo Morales's plane was diverted because of suspicions that fugitive US intelligence 'leaker' Edward Snowden was aboard. However he anticipated there would be no apologies from Spain as South American countries are demanding.
"We have to try somehow to calm things down, relax the mood, and resume relations," Foreign Minister Jose Manuel Garcia Margallo said in an interview with public television.
Bolivia reacted furiously after Morales, flying home from Moscow on Tuesday, had to divert and land in Vienna, accusing several European nations of denying his jet over-fly rights.
Spain's foreign minister denied, however, that his country closed its airspace to the Bolivian leader's plane, which resumed its journey on Wednesday and refueled in Las Palmas on the Spanish archipelago of the Canary Islands.
"What Spain said was that in no case was it going to restrict its airspace and that it would keep its authorization in force so the plane could land and refuel in Las Palmas," Margallo said. "Thus it does not have to apologize to Bolivia".
Bolivia accused France, Portugal, Italy and Spain of denying flyover rights because they suspected the plane was carrying Snowden, who is seeking to avoid US espionage charges after leaking embarrassing details of a vast US phone and Internet surveillance program.
"Neither Bolivia or its president commit crimes…we are most respectful of international law", said Morales from Vienna, describing the situation as a provocation "to Bolivia and the whole of Latinamerica". They did this because 'I'm indigenous, they would not have dared such an abuse with any European president".
The 30-year-old Snowden is believed to be holed up at a Moscow airport looking for a country that will give him safe haven.
Garcia Margallo admitted during the interview that at first Spain had received strong clear messages that Snowden was in the Bolivian presidential plane, although it later trusted Bolivian guarantees that that was not the case and the information was false.
"I believe in the word of friendly countries and Bolivia is one of them" said the Spanish official, which has not impeded the incident from becoming a full blown diplomatic crisis between Europe and South America whose leaders expressed solidarity in block for Evo Morales.
Bolivia is one of 21 countries Snowden has asked for asylum. Morales said earlier this week that his country would be willing to study the request.
President Morales has also threatened to close the US embassy in Bolivia over the jet diversion, which he said was the result of Washington putting pressure on European nations. "My hand won't shake when doing so, you can bet on that" insisted the Bolivian leader.
Venezuelan president Nicolas Maduro described what was done by the Spanish government with Bolivia and Evo as 'infamous" and also threatened with a full review of bilateral relations with Madrid. Spain and Venezuela have not had the best of relations since former president Hugo Chavez took office in Venezuela.
"I want to believe that those statements are a result of not knowing the facts and in the heat of a delicate situation", said the Spanish Foreign minister reacting to President Maduro's statements.
However former Spanish president Felipe Gonzalez told the Madrid media that "leaving aside any consideration which one might have about the Bolivian president, what happened is totally unacceptable",
Although Bolivia at first claimed that Madrid had denied President Morales the over-fly permit and landing in Spain neither the Bolivian ambassador in Madrid Maria del Carmen Almendras nor the Transparency minister Nardi Suxo confirmed the suspension was made effective.
Ambassador Almendras said that on Wednesday when Spain at first authorized the landing in Canary Islands, the aircraft was waiting in Vienna and "we then were involved in an unusually difficult negotiation with the Spanish government to obtain the final over-fly and landing authorization".
In Madrid Minister Suxo during a press conference demanded measures against the Spanish ambassador in Austria, who according to President Morales asked to have coffee on board the aircraft with the intention of double-checking if Snowden was effectively in the plane.