H1N1 influenza virus outbreak in north Chile; government considering decreeing 'health alert'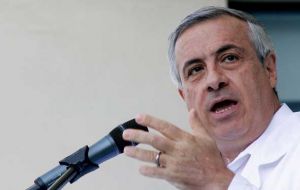 Eleven people have died from the H1N1 influenza virus in northern Chile in an outbreak that the health minister raised the possibility of decreeing a health alert to restrict people's mobility.
Health Minister Jaime Manalich, who was touring the northern region Friday, said he could decree a health alert to impose "certain restrictions or controls on people's mobility, measures to avoid concentrations" of people.
Northern Chile has registered a notably higher rate of infection than the rest of the country, with 146 cases of the virus per 100,000 inhabitants reported versus the average of 24 cases per 100,000, according to an official report.
Concerns are mounting that the Fiesta de la Tirana, a religious celebration scheduled for July 16 in the northern Tarapaca region, could further spread the virus as about 200,000 people are expected to converge. On the possibility of cancelling the annual festival, Manalich, however, said that he had no authority to do that.
The Health Committee of the Chilean Chamber of Deputies has requested the government to declare a state of emergency to avoid an aggravation of the outbreak in the region, some 1,900 km north of Santiago near the border with Bolivia.
In related news a total of 1,538 cases of infection with H1N1 influenza virus were reported across Venezuela by the end of June, the Ministry of Health said. The latest number marked an increase of 430 cases from the last official report, issued on June 12.
The cases mainly concentrated in Venezuela's coastal and western states and districts, with Merida state leading with 867 cases and followed by Tachira state, Caracas, Zulia state and Lara state.
In June 2009, the World Health Organization (WHO) declared a strain of swine-origin H1N1 as a pandemic. The disease had killed more than 18,000 people across the world before the WHO announced the end of the pandemic in August 2010.
Though not lethal, the H1N1 virus can aggravate an already weak immune system, and therefore poses a greater risk to such groups as the elderly, the pregnant and those suffering from cancer, AIDS, diabetes and heart problems. The higher-risk population is urged to seek medical attention if suffering from severe flu symptoms and to get vaccinated.