Argentine training frigate ARA Libertad at last moment suspends annual trip
Monday, July 8th 2013 - 06:29 UTC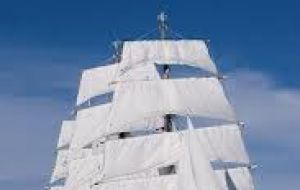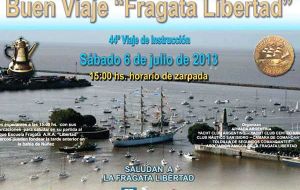 Argentina's flagship the tall mast frigate ARA Libertad which last year was retained in Ghana for 77 days, unexpectedly suspended until 2014 the beginning of its annual instruction trip which was scheduled to leave Buenos Aires this weekend.
In a brief release the Argentine Navy said that the suspension of the 44th instruction trip was because ARA Libertad will be participating in February next year in a Latinamerican tall-mast vessels display to take place along the coast of Brazil and Uruguay which will be followed by a trip calling at Pacific and Caribbean ports and finally Veracruz in the Gulf of Mexico.
The motive for such an event and show of Latinamerican integration is the celebration of the 200th anniversary of the Battle of Montevideo, several sea-combats along the River Plate that finished Spanish naval dominance in the area and the fall of the last bastion, Montevideo, which was Spain's main naval. The United Provinces fleet was commanded by Irish born Guillermo Brown, who is considered the father of the Argentine navy.
The suspension is so that "the crew can better prepare for the tall vessels event next year, that will be visiting Argentina and later tour Latinamerica in a display of regional integration and friendship, precisely because of the Battle of Montevideo anniversary", said Fernando Morales, vice-president of the Argentine Naval League.
"The celebration begins in February in the River Plate and then moves on to Mar del Plata and Ushuaia, following along the Pacific calling at Chile, Peru, Ecuador and Colombia. In the Caribbean they will call at Venezuela, Dominican Republic and ending in July in Mexico", according to Morales.
ARA Libertad will be accompanied by the ocean research sail vessel "Dr. Bernardo Houssay" and the catamaran "Ice Lady Patagonia II" from the Austral Scientific Research Association.
Thus the final instruction trip for Argentine Navy cadets promotions 142 and 143 will begin January 2014 with a mid trip replacement, so that all members can accomplish with the needed days of sailing and high seas professional training.
However despite the celebration announcement Argentine naval and diplomatic sources were quoted in the Buenos Aires media saying that the true reason for the delay of the five month instruction trip is the lack of needed funds: two million dollars.
ARA Libertad last year was retained in Ghana 77 days, following a dispute with an investment fund that holds defaulted Argentine bonds. Finally the UN Tribunal for the Law of the Sea in Hamburg ordered its immediate release after voting unanimously that war ships are immune to impounds based on the Law of the Sea and the Vienna convention.