Brazil decides exhumation of ex-president Goulart, believed to have been poisoned by the military regime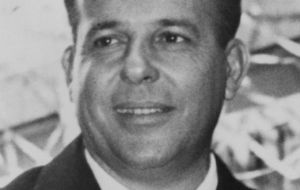 Brazilian authorities decided the exhumation of former president Joao Goulart remains to determine whether he was poisoned as part of the Plan Condor implemented by the Southern Cone military regimes to eliminate opponents during the seventies and eighties.
Ousted by the Brazilian military in 1964, Goulart died in Argentina in 1976 and was buried at his home town of Sao Borja in the state of Rio Grande do Sul, but with no autopsy performed.
Four years ago a former Uruguayan secret agent, Mario Barreiro Neira, currently imprisoned in Brazil for arms trafficking revealed that Goulart had been murdered by changing the pills for a cardiac problem with poison.
Jango as he was popularly known in Brazil, who actually preferred to step down and avoid a blood bath because he had the support of several states and loyal army garrisons, exiled in Uruguay but it was no secret that he was closely followed at all times by the Brazilian regime.
The exhumation initiative is sponsored by the Brazilian Truth Committee, the Presidency's Human Rights Secretariat and the Prosecution Office from Rio Grande do Sul. For this purpose these institutions and Goulart relatives met in Brasilia with Brazilian and foreign forensic experts to agree on details of the task.
The exhumation was authorized last March 18 by family members of the former president during an open hearing with participation of the Prosecution Office and the Truth Committee created in 2012 to investigate human rights violations in Brazil from 1954 to 1985.
Although Goulart died in Argentina, the Brazilian Prosecutor's Office in 2007 opened an inquiry to determine the causes of his death at the age of 58. Goulart was a healthy man, cheerful who enjoyed friends and never ceased to be involved in politics. A rich cattle rancher and landholder nevertheless he sponsored ideas such as promoting workers rights and land distribution among landless peasants.
He was also one of the youngest and brightest cabinet ministers of President Getulio Vargas, the outstanding political figure of Brazil from last century which helped transform the agrarian economy and build an industrial base. Even ousted the military were well aware that Goulart, described as a 'political animal', if there was an opening could easily make a political come back.
Jango died in December 1976 in a hotel of the city of Mercedes. Death was attributed to a heart attack, but his family always insisted he had been murdered.