Brazil's research company which turned the country into world breadbasket turns 40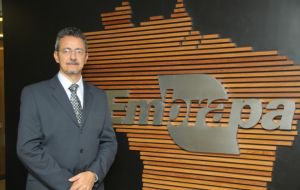 Embrapa (Empresa Brasileira de Pesquisas Agropecuarias) created tropical agriculture in Brazil, thus allowing the country to become the giant food producer it is today. Hailed for the work done in adapting soybeans to the hot, humid, acidic climes of the Cerrado savannah, where nearly 17% of the world's beans are now cultivated, the state-run research company is a national treasure.
But as it reaches its 40th birthday, most of Embrapa's major achievements are in the distant past. Since the 1990s, large, multinational biotech firms have taken the lead in developing genetics and technology for Brazil's agribusiness. Chronic under-funding in the 1990s and 2000s restricted Embrapa's research work.
The financial situation has improved in the last five years and the company still has a big role to play in Brazilian agriculture, insist Embrapa executives.
"Our time leading genetics is past, but we will take the lead in growing Brazil agriculture sustainably," explains Mauricio Lopes, Embrapa's recently-appointed president.
The priority is to promote vertical growth in production that doesn't hurt native vegetation, about 60% of which remains in place across Brazil.
In the area of grains, the focus will be improving crop management to make production more efficient and less harmful to the environment.
One big issue is crop rotation, said Jose Renato Boucas Farias, head of soy research and development at Embrapa Soja.
The success of the soybean has made it a ubiquitous summer sight across most of Brazil's grain regions. Increasingly farmers are planting corn as a second crop, but the lack of a financially viable cereal or grain crop means poor rotations and increased disease and nematode problems.
"Soybeans with corn are not a rotation. Many fall into bad practices," said Farias.
Until a financially attractive third crop is found, Embrapa has to convince farmers that rotation may lose them money in the short term but gains from controlling disease will recompense them in the long term, said the researcher.
One solution Embrapa is pushing hard is integrating pasture into rotations. It's an intriguing proposition, but one that has met some resistance from crop farmers who have no background in ranching.

Another major issue is indiscriminate spraying.
With soybean margins healthy and chemicals bought in job lots as part of input packages, many grain farmers spray just in case or because they have chemicals left over.
"This creates a lot of unnecessary contamination and increases resistance. We need to promote a more holistic approach," said Farias.
Brazil has seen a big jump in its insect population over the last few years, despite greater spraying, highlighting that Brazilian farmers need to become more precise in the diagnosis of problems.
"These crop management initiatives can go against commercial interests but are vital for the health of Brazilian farming," said Lopes.
The company is also interested in developing niche products, perhaps the largest of which is conventional soy.
With the arrival of genetically-engineered beans in the 1990s, most multinationals stopped research into conventional soy use in Brazil.
Embrapa took up that slack and over the last few years has launched seven new conventional varieties, which it claims offer yields comparable to those with Roundup Ready traits, and the initiative has spurred small private biotech firms to invest in other varieties.