Falklands: multi-disciplinary plan to help tackle veterans' trauma
Wednesday, July 10th 2013 - 17:44 UTC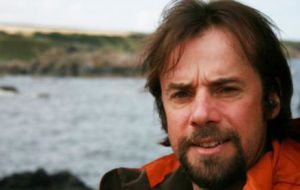 Archaeologists, historians, former service personnel and mental health professionals are meeting in London to discuss a plan to use archaeology to tackle war trauma. The plan is the idea of University of Glasgow academic Dr Tony Pollard and is centred on the Falkland Islands conflict.
The piece under the heading of "Mapping Falklands fighting to tackle veterans' trauma" was written by Huw Williams, BBC reporter.
Dr Pollard says while Falklands' veterans contribute to mapping the conflict, it might also prove therapeutic. But one veteran has warned that archaeologists could unlock trauma that they are not qualified to tackle.
Dr Pollard says he has based the proposal on work already being done at the University of Southern Mississippi, where Dr Andrew Wiest invites soldiers who fought in the Vietnam War to lecture to his students. The veterans also accompany groups to the battlefields where they saw action.
Dr Pollard, from the Centre for Battlefield Archaeology, told BBC radio's Good Morning Scotland programme: "(Andrew Wiest) says there can be no doubt it has had a positive impact on those sufferers of Post Traumatic Stress Disorder.
"And I am talking at the moment to a number of psychologists who specialise in war trauma with veterans. They are very keen to take part in this project, and I don't think that I can undertake that part of the project without their collaboration."
Alan Crawford was a platoon sergeant with Second Battalion, Scots Guards in 1982. He and his men provided covering fire while their comrades began the assault against Argentine positions.
"The initial reaction was a little bit of a shock", he says. "But then your drills kick in. All the training that we'd done; it sort of just took over and it would be wrong for me to say it was automatic, but it certainly felt that way."
The fighting at Tumbledown was more fierce, and lasted longer, than expected.
Alan Crawford, who was eventually commissioned and promoted to Lieutenant Colonel, says his young soldiers who'd gone to the Falklands as boys came back as men.
"I wasn't actually engaged in hand to hand bayonet fighting. Some of the boys were. That was difficult.
"And, during the assault, when you're seeing the results of some of the firing that had taken place, that's a bit of a wake-up call as well."
Experiences like that lead some Falklands veterans to want to return to the Islands, years after the conflict.
The Falklands Veterans Foundation runs a lodge in Port Stanley where they can stay.
The Foundation's Chief Executive Derek Cole, known as "Smokey", says soldiers who've seen action on land are especially keen to go back.
"They want to return to where they fought those battles and go through in their minds, and just make sure that they did the right thing.
"And when they see it in the cold light of day they ask could we have done it differently, could we have done it better."
But, "Smokey" Cole says, return visits can be extremely emotional.
He remembers one veteran who found it difficult to get onto the aircraft at RAF Brize Norton; and almost impossible to get off, when it touched down in the Falklands.
"They had to coax him off, because he'd been involved in the Sir Galahad incident, which was a major loss of life to British forces.
"And he didn't really know if he was doing the right thing, stepping back on the Falkland Islands."
That led Alan Crawford, who now works as Senior Grants Officer for ABF - the Soldier's Charity - to warn that archaeologists risk damage to veterans who are involved in the archaeological mapping project.
"People will volunteer to do things. They'll go down (to the Falklands), and they'll do it. And they'll start having some difficulties.
"Because once you unlock something, it's impossible to close it."
Alan Crawford has been back to the Falklands himself. Not to lay ghosts to rest, but to shepherd a BBC film crew who were marking the 25th anniversary of the fighting.
And he's glad he went. "It was so, so rewarding. I'd never seen the whole of the battlefield at Tumbledown. And to walk it all, and see the difficulty the left flank had, that was very, very sobering.
"The other thing I did, of course, was pay homage to some of the boys that had been killed, and of course, meeting the Falkland Islanders. That was wonderful. They are the most fantastic people in the world."
Dr Tony Pollard says the project will only go ahead if it gets backing from Islanders, and if he can raise the cash to fund it. (BBC).-