Mercosur and Paraguay on collision course; Uruguay insists Venezuela will hold the chair of the group
Wednesday, July 10th 2013 - 06:09 UTC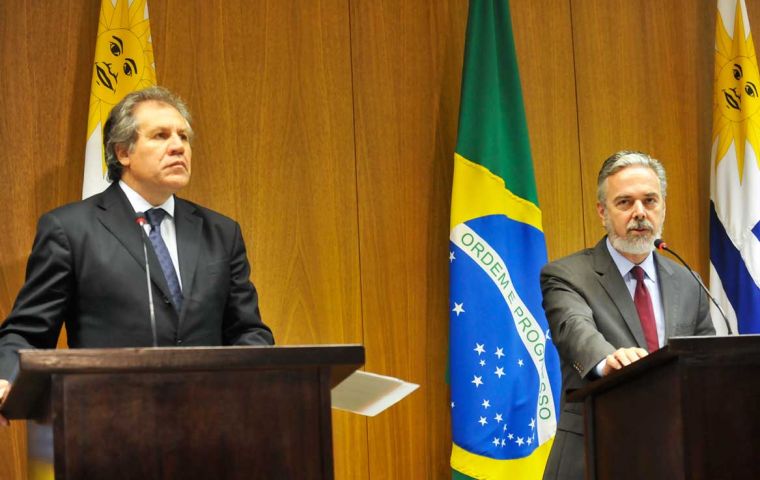 Paraguay reiterated on Tuesday that if Venezuela assumes as pro termpore chair of Mercosur, it is not interested in returning to the group and discarded Venezuelan President Nicolas Maduro pledge to ensure Paraguay is fully reincorporated.
"This does not fulfil Paraguay's expectations; what the president of Venezuela is saying is not our aspiration as a solution with Mercosur", said Paraguayan Foreign minister Jose Felix Fernandez.
Maduro speaking from Caracas ahead of the trip to Montevideo to attend the Mercosur summit later this week pledged that once Venezuela holds the group's pro tempore chair it would put all its efforts for the active return of Paraguay.
Nevertheless the Paraguayan minister cautioned that faced with "an avalanche of news and reports" about the Mercosur presidency "we must not lose our patience and remain calm".
Likewise Minister Fernandez deeply regretted the attitude of Brazil and Uruguay towards Paraguay by handing the pro tempore chair to Venezuela, "we were hopeful this would not happen, since it is not a constructive position".
"If international law is not complied, if the rule of the law and Paraguay's institutions and dignity are not recognized and respected we can't continue in Mercosur", added Fernandez who pointed out that "we are not advancing that we are abandoning Mercosur".
Earlier in the day from Brasilia, visiting Uruguayan foreign minister Luis Almagro said that at the next summit 12 July, Venezuela will be handed the pro tempore chair because "Paraguay remains suspended" from the group.
"On July 12, Paraguay will be still suspended therefore the presidency will follow the alphabetical rotation order and thus it will be transferred to Venezuela" said Almagro from Uruguay that currently holds the pro tempore chair.
According to Almagro and his Brazilian counterpart Antonio Patriota, the active reincorporation of Paraguay is scheduled to take place next 15 August when president-elect Horacio Cartes takes office in Asuncion.
"The roadmap is as follows: when Paraguay reintegrates the Mercosur system, we will find the best solutions to solve the pro tempore presidency problems", said Almagro.
Paraguay was suspended from Mercosur a year ago, in June 2012, when Fernando Lugo was removed from office following political impeachment with almost unanimous Senate support. However Mercosur said it was a "congressional coup" and suspended Paraguay until the next presidential election.
But in the meantime violating the Mercosur charter which demands unanimous approval and attendance of all members, Argentina, Brazil and Uruguay in an extraordinary summit approved the incorporation of Venezuela as full member; this despite the fact the Paraguayan Senate had systematically rejected that inclusion since it considered the government of former president Hugo Chavez undemocratic.
Furthermore Paraguay rejects the figure of Nicolas Maduro, who at the time of the June 2012 events as Foreign Minister was caught on video instigating the Paraguayan Joint Chief of Staff to sends troops to the streets of Asuncion to prevent the political impeachment of then president Lugo.