China blesses Taiwan economic accords if 'one-China' policy is respected
Thursday, July 11th 2013 - 07:04 UTC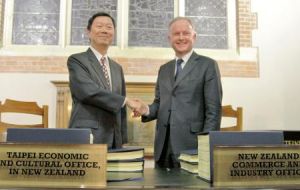 China accepts that Taiwan signs economic cooperation agreements with other countries as long as they are not political and those countries do not interfere with the 'one China policy' which considers the island a province part of the nation, and not two nations as defended by Taipei.
That was the official reaction from China when Foreign Ministry spokesperson Hua Chunying was asked about the agreement signed by Taiwan with New Zealand, a country with which Taipei does not have formal diplomatic relations.
This is the first agreement signed by Taiwan with a non ally country and with no anticipation of a Beijing blockade to Taipei's international links.
"If new Zealand continues to support the 'one China' policy and performs in an adequate way the accord that will help to a healthy development of relations between Beijing and New Zealand", said spokesperson Hua Chunying during a media round.
"China's position on the interaction of Taiwan with foreign countries is clear: we have no objections to economic dialogue between Taiwan and foreign countries, but we oppose to government relations", added the spokesperson.
"The current China-New Zealand relationship is in good shape. New Zealand's adherence to the one-China policy and proper handling of relevant issues is conducive to the sound development of the China-New Zealand relationship," Hua told reporters at a regularly scheduled briefing.
The treaty sealed in Wellington, NZ capital, signals a new chapter in the signing of free trade agreements with Taiwan, which so far had been limited to diplomatic allies given the strong opposition from China.
Taiwan and New Zealand started negotiations for a bilateral economic cooperation agreement similar to a free trade agreement back in 2011.The World Trade Organization describes Taiwan as a "separate customs territory."
Taipei so far only had free trade agreements with Panama, El Salvador, Honduras, Guatemala and Nicaragua, all of them diplomatic allies in Central America, plus a few more in Africa.
Another similar agreement to that reached by Wellington is under discussions between China with Singapore and India.
New Zealand was Taiwan's eighth-largest source of agricultural imports in 2012, but also has as its main trade partner China.
The location of the signing ceremony at a university and the absence of senior officials from either side underscored New Zealand's interest in maintaining its increasingly important ties with Beijing.
Five years ago, New Zealand became the first developed nation to sign a free trade deal with China, which has since become its largest export market.
In contrast to New Zealand, the deal was widely trumpeted in Taiwan, which is eager to break out of its China-imposed diplomatic isolation. It was Taiwan's first free trade agreement with a developed country and, from its point of view, a victory that was more political than economic. Television crews were on hand to beam the signing ceremony live to Taiwan.