Argentina: private estimates' June inflation reached 1.93% and 23.78% in twelve months
Friday, July 12th 2013 - 08:13 UTC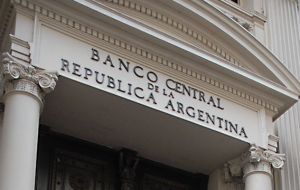 Argentina's June inflation according to the 'congressional index' was 1.93%, and 23.78% in the last twelve months, it was announced on Thursday by the opposition members from the Lower House Freedom of Speech committee.
The congressional index is made up on an average of private economic consultants' estimates which are exposed to fines if they make public their findings public. The monthly announcement in Congress by opposition members comes ahead of the official (manicured) inflation released by President Cristina Fernandez government stats office Indec, which is usually half that percentage.
"Current policies implemented by Cristina Fernandez every day they pinch into Argentine citizens' pockets through inflation and the income tax floor which remains particularly low and nets most wage earners", claimed member of Congress Patricia Bullrich
Lawmaker Ricardo Gil Lavedra said that the inflation data "can only mean suffering and sadness for those unemployed, with fiscal problems and for who have to face soaring prices for health and education services" and then blasted Domestic Commerce Secretary Guillermo Moreno "whose hooligan and bully tactics have only confirmed the failure of this government in containing prices".
Finally Eduardo Amadeo, another opposition lawmaker said he hoped that "President Cristina Fernandez makes decisions that favour the people and not Moreno". He admitted that after a few months in which prices were frozen and seemed to 'plateau' they have again started to climb steeply.
Private economic consultants Ferreres said that inflation in Argentina climbs in the context of "an increasing budget fiscal deficit and with the country using (Central bank) reserves to meet payments which means other strong alternatives will have to be found by the government"
"Every month Argentina loses a billion dollars in reserves, 12 billion in a year, and this will certainly complicate the economy by mid 2015", anticipated Ferreres. However he anticipates the government will continue "with the current policy until the end of its mandate in 2015, hoping to generate sufficient confidence among consumers and investors to paddle along.