Chilean national strike in demand for improved labor conditions and free education
Friday, July 12th 2013 - 19:29 UTC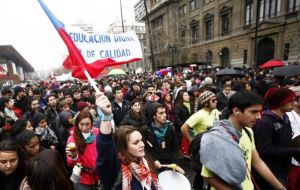 Protesters disrupted traffic in the Chilean capital and blocked access to mining operations Thursday as part of a national strike called by the country's main labor federation.
Burning barricades were erected at various locations around Santiago during the morning rush hour, and protesters commandeered a bus and set it on fire after forcing the driver and passengers to disembark, police said.
Hundreds of police were deployed around the city even as the mayor's office and the Central Unica de Trabajadores (CUT) union reached agreement on a path for a protest march through Santiago.
The protests extended to other Chilean cities and organizers claim almost 200.000 people turned out in the streets of Santiago, although police put the number in 30.000.
Police arrested 67 people, and six officers were injured in clashes with demonstrators.
Interior Minister Andres Chadwick reported that only 6.4% of all public workers, or about 10,000 out of 161,000, joined the strike. "There are no reasons to call a strike, but there are legitimate rights to manifest discrepancies in a democracy," Chadwick said.
The CUT is calling for a new labor law, tax reform, an increase in the minimum wage and to replace a privately managed pension system with one that would be run by the state.
The labor action comes amid rising social tensions four months ahead of general elections November 17, on top of unrelenting student protests demanding a free, high quality public university system.
In Thursday's protest, demonstrators cut access roads to mines run by the state-run copper producer Codelco, the world largest.
On its Twitter account, Codelco said that "despite the access problems, all Codelco divisions are operating normally. Only in Ministro Hales did the first shift not make it to work."
Despite the protests, the Santiago airport was operating normally, and stores and businesses were open.
Chile experiences rapid economic growth and low unemployment but the world's top copper producer is also plagued by vast income inequality and an expensive education system. Precisely education and tax reform remain key issues ahead of the November presidential election.
Former President Michelle Bachelet, the frontrunner in the race, wants to finance an education overhaul that would slash tuition fees by raising corporate taxes from 20 to 25% over four years. Her rival, former Economy Minister Pablo Longueira, opposes free education for all, but has not dismissed the possibility of a tax reform.