Uruguay files in SEC plans to sell up to 5 billion dollars in securities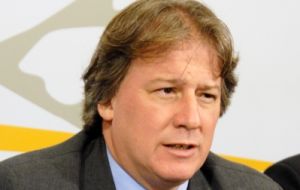 Uruguay filed a shelf registration with the US Securities and Exchange committee to sell up to 5 billion in US denominated securities. Economy minister Fernando Lorenzo said the filing will allow the government to issue debt when it is convenient for the country and market conditions are favourable.
"We need a lot more clarity with respect to the direction of policies, particularly from the US which determines the behaviour of markets; I think that in the coming weeks, months there will be greater clarity to that respect", said Lorenzo in a piece published by the Wall Street Journal.
In the filings Uruguay said it will use the net proceeds from the securities to refinance, repurchase and retire domestic and foreign debt. The securities under the shelf registration will be governed by New York State law.
According to the latest data Uruguay's public sector debt stood at 30 billion dollars equivalent to 62% of GDP.
In the budget bill sent by the Executive to congress and currently under consideration, the Uruguayan government has plans to issue 1.25 billion dollars in securities, although much of it is done through the local market and not necessarily in the framework of the latest SEC registration.
Uruguay also has contingent credit lines with multilateral organizations ton protect the country from any abrupt interruption of the inflow of capital into Uruguay, added Lorenzo.
Until recently Uruguay's high Central bank benchmark interest rate turned the country into a magnet for short term capital. In effect with almost zero rates in Europe and the US, capital flooded Uruguay attracted by the Central Bank's 9.5%.
But earlier this year the bank said money supply and not interest rate would become its main monetary tool to try and contain the massive inflow of capital that was sustainedly appreciating the local Peso and hitting international competitiveness.
On the other hand, despite almost a decade of sustained growth the Uruguayan budget remains in the red and this year's deficit is estimated to be close to 3% of GDP. The delay in delivering official data and the different positions in the ruling coalition increasingly publicly exposed seem to confirm that budget expenditure has become excessive under current circumstances.
Likewise next year the country will be holding presidential elections and there already is strong campaigning.