China confirms economy is slowing down after second quarter weaker expansion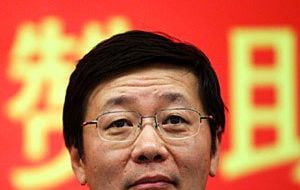 China's economic growth slowed in the April to June period, the second straight quarter of weaker expansion. The world's second biggest economy grew by 7.5% compared to the previous year, down from 7.7% in the January to March period, data showed. The figures were in line with analyst expectations.
After decades of blistering growth in China, analysts say authorities now seem ready to accept a slower pace of expansion. The figures showed that weak trade data and actions by authorities to rein in bank lending contributed to the slower growth.
"As of now, China's gross domestic product has been staying under 8% for five straight quarters, a clear sign of distress," said economist Ren Xianfang from IHS Global Insight.
"The rather sharp growth deceleration and the recent financial market turmoil indicate that risks have been building on both the financial and real goods sector."
The government has set a target of 7.5% growth for the whole of 2013, which would mark the lowest rate of expansion in more than two decades. A slowdown in economic activity in China has a global impact as companies that sell to China may see revenues suffer.
Countries including Australia, Brazil and others in South East Asia have seen huge profits in recent years because of Chinese demand for natural resources. The fall in demand from China has already had an impact on the prices of many commodities.
Last week, China's Finance Minister Lou Jiwei indicated that economic growth could be 7% for the year, and that this may not be the "bottom line". However, the state-owned Xinhua news agency later corrected its report, saying Mr Lou had said economic growth would be 7.5%, in line with government targets.
But some analysts question whether China's growth rate might dip still further later in the year.
Other data released on Monday showed growth in factory output had slowed to 9.3% for the first half of the year, down 0.2% from the first three months of the year. Growth in investment in factories and other fixed assets also eased.
"Further deceleration is possible if reforms and stimulus measures are delayed," said Alaistair Chan of Moody's Analytics in a report.
Other analysts say more stimulus measures will be essential if the government is to meet its growth targets. "We will see some targeted measures to stimulate growth,'' said Credit Agricole CIB economist Dariusz Kowalczyk.
"They have to do something. Otherwise they will miss their target. And they cannot afford that, because this is their first year in power."
A spokesperson for the National Bureau of Statistics said: "Major indicators are within our targeted range but we face a complex situation".
China's leaders have repeatedly said the long-term goal is to rebalance the economy away from an over-reliance on exports and investment, and spur consumer spending instead.
"Some measures, including the intensified property tightening campaign, new rules to curb misuse of public funds and the exit some previous stimulus policies, will inevitably have some impact on growth in the short term, but they will benefit our economy in the long run," said Sheng Laiyun from the bureau of statistics at a press conference.
In 2012 China expanded at a rate of 7.8%, its worst annual performance in 13 years.