Argentine Orcadas base reports 7.3 magnitude earthquake close to Antarctica Peninsula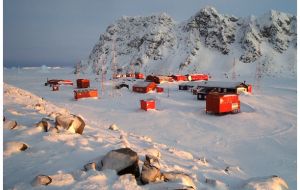 A powerful 7.3-magnitude earthquake has struck off the coast of Antarctica, generating large waves but causing no injuries, seismic experts at Argentina's Orcadas base in Antarctica reported on Monday.
"The seismological station ... registered at 14:03 GMT an earthquake measuring 7.3 on the Richter scale in the area near the base, with an epicentre 10 kilometres deep," Argentina's Antarctic management said in a statement.
The earthquake did not cause any damage to the base or cause any injuries to the staff, it said, adding there were no reports of damage or injuries at other bases on the Antarctic Peninsula.
The release indicated that the geography of the island protects the base which is part of the Antarctic Seismograph Argentine Italian Network (ASAIN) and also keeps track of climate change.
According to Argentina the Orcadas scientific base is the oldest in the region since it was first established in February 1904.