Chinese market for beef soaring; companies after overseas farms and processors
Wednesday, July 17th 2013 - 19:58 UTC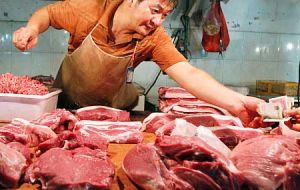 With more money in their pockets, millions of Chinese are seeking a richer diet and switching to beef, driving imports to record levels and sending local meat firms abroad to scout for potential acquisition targets among beef farmers and processors.
The need to feed the world's most populous nation has seen Chinese firms gobble up foreign dairy, sugar and cereal producers, and Shuanghui International's 4.7 billion dollars bid last week for top US pork producer Smithfield Foods is just the country's latest food 'land grab'.
Beef could be next on the menu as Chinese opt for the protein-rich meat, which is seen as a higher quality product than pork, the nation's staple.
While pork and poultry remain China's meats of choice, beef consumption is growing rapidly as hot-pot restaurants, Korean barbecue joints and burger bars set up across the country.
Chinese consumers are also more wary about cheaper local meat products after a series of recent food safety scandals - from bird flu to rotting pig carcasses in Chinese rivers.
This has tightened beef supplies and pushed up local prices by almost a third last year. Prices in February hit a record 8.31 dollars per kg.
All of which is making imports more affordable - good news for major beef producers such as Australia and New Zealand - and encouraging Chinese firms to look overseas to secure future supplies.
"There are many companies closely following this market and looking for the right time to come in. One of the major reasons is food safety," said a consultant who advises Chinese agribusinesses.
One state-owned agribusiness firm is in talks with a foreign beef supplier and eyeing future overseas production, he said, asking not to be named because the information is commercially sensitive. "They want to start importing beef as a first step.
If they see an opportunity, they could build a processing facility or make an acquisition in the United States or Australia," he added.
Chongqing Grain Group, a state-owned business that has expanded aggressively overseas in recent years, plans to invest in breeding beef cattle in Australia, its president Hu Junlie said, without giving further details.
Tianjin Dawnrun Beef, too, has been buying up rivals to expand its business and is looking to breed cattle in Australia, said a company official.
Australia and New Zealand are the two leading beef exporters to China, and are likely to be where Chinese firms will look first to invest, industry experts said.
Major beef suppliers in Australia include Australian Agricultural Company and the local unit of Japan's Nippon Meat Packers, Alliance Group and Silver Fern Farms are two of New Zealand's largest meat processors.
China's beef imports soared in January-April to more than 75,000 tons, more than 10 times those in the same year-earlier period, and look set to far outpace initial forecasts.
That's still just a fraction of China's total consumption of around 5.6 million tons a year, but the proportion is set to swell. For now, the Chinese eat just 4-5kg of beef per head each year, around a fifth of the global average.
The US Department of Agriculture predicts China's beef cow stocks will slip below 2011 levels this year to 46.3 million head - that's around one beast for every 28 people, compared with a ratio of 1:11 in the United States. Beef production has been steady at 5.5-5.6 million tons in recent years.
China currently only allows beef imports from Australia, New Zealand, Argentina, Uruguay and Costa Rica, but recently added four Canadian firms to its list of approved exporters. It has also signed a framework deal with India to import buffalo meat. (Argentine Beef Packers S.A.)