Fed says asset purchases will remains above all flexible to market conditions
Wednesday, July 17th 2013 - 22:12 UTC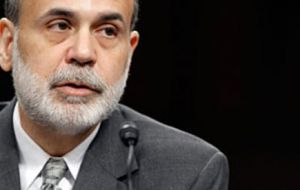 Federal Reserve Chairman Ben Bernanke said on Wednesday the US central bank still expects to start scaling back its massive asset purchase program later this year but left open the option of changing that plan in either direction if the economic outlook shifted.
While sticking closely to a time line he first outlined last month that the Fed would halt bond buying by mid-2014, when unemployment was projected to be around 7%, Bernanke went out of his way to stress that nothing was set in stone.
"Our asset purchases depend on economic and financial developments, but they are by no means on a preset course," he told the US House of Representatives Financial Services Committee in prepared remarks.
Bernanke's semi-annual statement to Congress, which may be his last if the chairman steps down when his term ends in January, as many expect, will be followed by a lengthy question and answer session with the committee's members.
Bernanke said the pace of asset purchases could be reduced "somewhat more quickly" if economic conditions were to improve faster than expected. On the other hand, the current 85 billion monthly pace "could be maintained for longer" if the labour market outlook darkened, or inflation did not look like it was rising back toward the Fed's 2% goal.
"Indeed, if needed, the Committee would be prepared to employ all its tools, including an increase (in) the pace of purchases for a time, to promote a return to maximum employment in a context of price stability," the chairman said, referring to the policy-setting Federal Open Market Committee.
The Fed has held interest rates near zero since late 2008 and more than tripled the size of its balance sheet to over 3.3 trillion dollars through three rounds of massive bond buying aimed at lowering long-term borrowing costs to support growth and lower U.S. unemployment which was a lofty 7.6% in June.
Bernanke said the economic recovery was continuing at a moderate pace thanks to a stronger housing sector, which was helping conditions in the labour market improve gradually, and repeated the Fed felt the risks to the economy had decreased since the fall.
But he said higher taxes and cuts on federal spending could still turn out to exert a larger drag on U.S. growth than expected, and that worsening conditions overseas could still hurt conditions back home.
In anticipation to Bernanke's statement, on Tuesday IMF Managing director Chrisine Lagarde had cautioned that the world's major central banks must phase out their unconventional monetary policies carefully.
Unconventional monetary policies that were decided by the Federal Reserve and the Bank of England, the European Central Bank and the Bank of Japan have had consequences on capital flows warned Ms Lagarde.
"The unwinding of these policies ... needs to be phased out carefully," the IMF head told the conference in Bucharest on Eastern Europe and Romania. "It's a much more subtle game, how to continue and phase them out," she added.