Bachelet running alone; Chilean conservatives have to decide on a new candidate
Thursday, July 18th 2013 - 09:03 UTC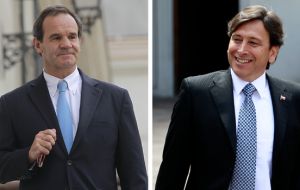 Chilean conservative presidential candidate Pablo Longueira unexpectedly quit his campaign due to depression, his son said, dealing another blow to an already weakened right-wing bloc four months from the general election.
His departure could boost the already strong chances former centre-left leader Michelle Bachelet will regain the presidency in the Nov. 17 election or a potential Dec. 15 runoff.
"Our father is sick. After the election in the (conservative bloc's) primaries, following some days of rest, his health deteriorated due to depression that have been medically diagnosed," son Juan Pablo Longueira said in a televised news conference on Wednesday.
Longueira became the conservative UDI party's candidate after businessman Laurence Golborne abandoned his presidential candidacy in April over a billing scandal and allegations of undeclared offshore assets.
He went on to squeak by in the June 30 primaries to beat rival Andres Allamand from President Sebastian Piñera's Renovacion Nacional party. Piñera is barred by the constitution from running for a second consecutive term.
Potential nominees include Golborne, Allamand, Labour Minister Evelyn Matthei and Education Minister Carolina Schmidt. They have until mid-August to declare their candidacy.
The UDI party said it would meet on Thursday to select a replacement for Longueira, a veteran politician and former minister who was close to former dictator Augusto Pinochet.
Regardless of who the conservative candidate ends up being, Bachelet, an affable paediatrician-turned-politician who governed the world's top copper-exporting nation from 2006 to 2010, is seen returning to the La Moneda presidential palace.
"The only candidate who is emerging from this tempest (unscathed) is Bachelet," said Marta Lagos, the head of pollster MORI. "If candidates continue with these types of surprises, this could end up being a proclamation."