IMF sides with Argentina in dispute with hedge funds holding defaulted bonds
Thursday, July 18th 2013 - 08:35 UTC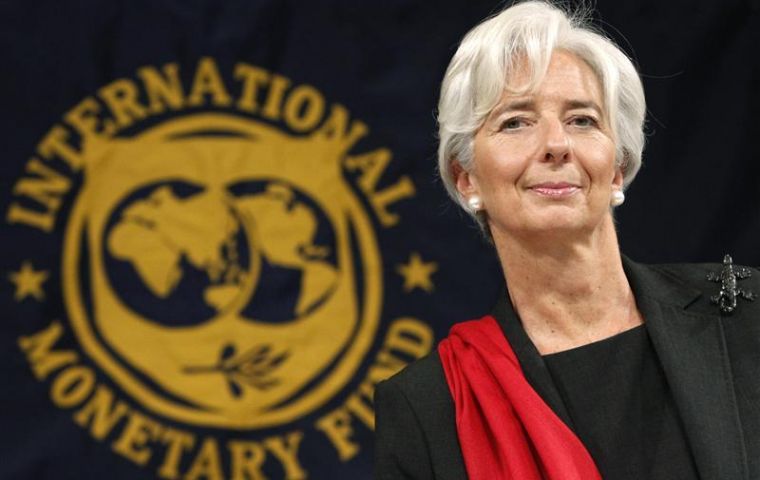 In an unprecedented move, the International Monetary Fund plans to ask the US Supreme Court to review Argentina's case in a decade-old legal battle with holdout creditors, because of the implications it could have on sovereign debt restructurings.
Argentina is seeking to void an October 2012 ruling by the 2nd US Circuit Court of Appeals in New York that found it had violated a clause in its sovereign bond documents, known as pari passu, and requiring it to treat all creditors equally.
In a letter sent to the holdout investors on Tuesday, IMF Managing Director Christine Lagarde informed the plaintiffs of her intention to recommend to the executive board that the fund file the amicus curiae, or friend-of-the-court brief, by the July 26th deadline, advocates for the holdouts said on Wednesday.
"The Managing Director of the IMF will be recommending to the Fund's executive board that the Fund file an amicus curiae brief in support of the petition for a writ of certiorari in the case of Argentina vs. NML Capital," the letter said, according to the American Task Force Argentina (AFTA).
The IMF has never before filed a brief to the U.S. Supreme Court.
The letter was sent to the plaintiffs, including NML Capital, a unit of billionaire hedge fund manager Paul Singer's Elliott Management, and Aurelius Capital Management. Members of AFTA, which advocates for a better settlement to the default, include holdout investors.
The 2nd Circuit has yet to rule on whether to uphold U.S. District Judge Thomas Griesa's order last November that Argentina pay holdout bondholders 1.33 billion dollars.
The Supreme Court is on its summer break and won't decide whether to hear the case until the fall. Over the last decade, holdout investors and Argentina have sparred in the US courts over the country's default in 2002, even when the country reached agreements with 93% of bond holders.
Earlier in the week The Washington Post reported that US Justice, Treasure and State Department officials met with lawyers both from Argentina and hedge funds that refused to accept Argentina's debt swap.
According to the article published on the daily's online edition, the Barack Obama administration could "end up siding with Argentina" in an "unusual move" that will get the White House involved in the legal row before the US Supreme Court "asks it to."
Forcing sovereign nations to repay their overdue debts is a controversial topic in the developing world and in the halls of US government agencies. Bondholders who buy defaulted debt at a discount are often derisively called "vulture capitalists" for trying to profit from the financial woes of struggling nations.