Venezuelan parliament approves incorporation of Bolivia to Mercosur as full member
Thursday, July 18th 2013 - 08:26 UTC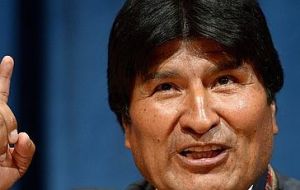 The Venezuelan parliament approved Bolivia's protocol of adherence to Mercosur as full member thus clearing the way for the landlocked mostly indigenous populated country to become the sixth member of the South American trade block next to Argentina, Brazil, Paraguay, Uruguay and Venezuela.
The protocol had the support from the ruling coalition and the opposition and lawmaker Saul Ortega said it was "a satisfaction to know that we are voting the incorporation of our sister republic of Bolivia, welcome".
Leomagno Flores from the opposition expressed approval in similar terms, "we believe it is important to have Bolivia in Mercosur, from an integration point of view it is most significant to have it join the southern countries of the continent".
Bolivia was invited to join Mercosur as full member last December but before that really happens all five parliaments must approve the initiative.
Paraguay which is currently suspended from the block has questioned the incorporation of Bolivia arguing that Mercosur treaties impede such a move if the country involved belongs to other economic integration groups such as the Andean Community.
Bolivia currently holds an associate member status and as such can participate in Mercosur debates but not cast a vote, until confirmed as full member. In his 'thank-you' speech President Evo Morales said he was particularly grateful for all the safeguards that the other members had accepted so that Bolivia could join Mercosur.
Another country in the process of joining Mercosur as full member is Ecuador that currently has the status of associate member.