China interested in developing agriculture in Venezuela's 30 million hectares of land
Tuesday, July 23rd 2013 - 07:33 UTC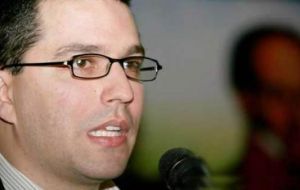 Venezuelan Vice-president Jorge Arreaza said that cooperation between China and Venezuela, which has been especially strong and beneficial in energy and technology, could be extended to include agriculture and land exploitation, an area of special interest for Beijing.
"China has shown much interest since the visit of Vice-president Li Yuanchao (last May) in agriculture and agro-industry" said Arreaza who added that Venezuela has 30 million hectares of prime land and great agriculture potential, but much of them remain idle "because of the absentee landholders from our local bourgeois".
Arreaza, on an official visit to Beijing admitted Venezuela has battled the large estate holders and invested huge sums but "we are still far from ensuring food self sufficiency and sovereignty, and thus we need alliances such as those we have with China".
China on the other hand faces a serious shortage of land and good soil: it has to feed 20% of global population with 7% of agriculture land in the world, and for this reason in recent years has been looking for alliances or agreements of this nature particularly in Africa and Latam to ensure a sustained supply of food.
However this policy which has included renting or shopping for land has been described in many countries as a new form of 'neo-colonialism' or the 'Chinese threat' but Arreaza was quick to reply, "maybe those who appeal to those arguments have close interests or links with US imperialism".
"For the United States, Latam historically has been the backyard which it used for its limited wars, military interventions, extracting natural resources, and when another global power moves in and of the size of China, those with links with the US panic, but for us and for the majority of Latam this is very good news", said the Venezuelan official.
Arreaza said that during the visit to Beijing and Shanghai the project to establish in Venezuela special economic zones was also considered as a way to stimulate the economy and create jobs. China and other Asian countries used the model to stimulate their economies and in the specific case of China, the city of Shenzhen was created on such purposes in the eighties and now has become the leading Chinese technological centre of the country.
"The Chinese government is not wanting to impose any formula or standard, they only want us to learn from their mistakes and successes and they have even invited a team of Venezuelan experts to visit ten of their special economic zones to collect information and decide what best applies for us", said Arreaza.
"China wants to help Venezuela develop all its potential", concluded Arreaza following his several days visit to Beijing and in Shanghai the special economic zone of Pudong that has become a district of skyscrapers.