Polls confirm support for Rousseff has crashed and Lula da Silva becomes an option
Tuesday, July 23rd 2013 - 08:00 UTC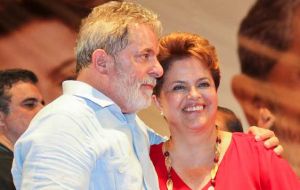 Former president Lula da Silva is back leading opinion polls as the most likeable candidate for Brazil's presidential election in 2014, eleven percentage points ahead of his successor and current president Dilma Rousseff according to the latest public opinion polls released over the week end.
The survey from private pollster Ibope and the influential daily O Estado de Sao Paulo shows that 41% of Brazilians would vote for the former president if he decides to run next year, compared to the 30% for President Rousseff who is suffering the consequences of a month long of protests when over a million people took to the streets.
However Lula da Silva who stepped down after eight years in office (2003/2011) with 80% popularity said he has no intention of bidding for the presidency in 2014 because he wants Dilma Rousseff to win a second consecutive mandate.
The poll shows that the two leaders from the ruling Workers Party are favourites to win and beat other hopefuls but if the election was to take place now, both would face a run off. Brazilian legislation demands a 50% of ballots cast in a first round to avoid the run-off.
"I discard the possibility of being candidate since I already have a candidate, the president of the republic. Nobody is knocking on my door and people know it's not worth doing so", insisted Lula da Silva following an academic event in Sao Paulo.
Rousseff's support crashed 24.4 points in a month from an approval rate of 73.7% in June to 49.3% in July according to the CNT/MDA opinion poll. The fall coincided with the massive street protests demanding better public services and condemning rampant corruption in the political system and pharaonic expenses in anticipation of the 2014 World Cup.
Most of the protests took place during the recent July Confederation Cup sponsored by FIFA, thankfully won by the host.
The 30% vote for Rousseff compares with the 22% for Marina Silva, the greens' candidate and a former environment minister; with 13% for Social-democrat Aecio Neves, governor of Minas Gerais and the main candidate of the opposition and 5% for Eduardo Campos, governor of Pernambuco and an ally of the current ruling coalition.
Last March the Ibope-Estado poll had Rousseff winning with 58% of vote intention, but in the new scenario the president and Silva would be tied in the run off and with 18% simply not voting or tearing the ballot. In March the disenchanted reached 9%.
Lula da Silva in a similar scenario would capture 39% of the vote; Ms Silva, 18%; Neves, 12% and Campos, 3%.
The survey was done on July 14th with 2.002 interviews covering the whole of Brazil and with an error margin of two points.