Brazil prepared to change Mercosur negotiation strategy to spur agreement with the EU
Thursday, July 25th 2013 - 02:33 UTC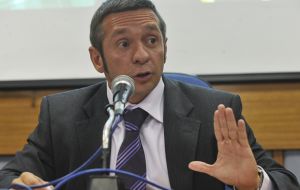 Brazil wants to change the way Mercosur negotiates trade agreements with the European Union, EU, so as to definitively advance with the ongoing discussions that were started in 1995, but still have to see concrete results, according to Brazilian official trade and diplomatic sources.
Brazil is committed to have the group (Argentina, Brazil, Uruguay, Paraguay and Venezuela) reach a wide ranging cooperation and trade agreement with the EU that should help create a market of 750 million people and annual trade of 130bn dollars.
With its economy slowing down, the trade deficit growing Brazil is pushing for a new more agile mechanism but admits difficulties inside Mercosur (most probably with Argentina) and does not discard allowing members to negotiate agreements 'at their own rhythm".
"Our wish and commitment is to advance in our trade agenda and business opportunities but we need to find a mechanism to implement that purpose" in coordination with Mercosur partners said Deputy Trade minister Ricardo Schaefer.
"Mercosur is very important and strategic for Brazil, but we have an agenda to comply and there are some asymmetries which we have to address", added the official.
Schaefer said Uruguay must move faster, but admitted that Argentina prefers a slower pace. "But we are in no position of discarding nothing and one thing which is completely out of the question is to wrap up Mercosur".
Brazil which is Latam largest economy seems to be changing its emphasis from the 'infinite patience' towards Argentina, its main partner in Mercosur and a permanent source of restrictions to trade, and is looking for a more aggressive way to advance overseas in an attempt to counter what is proving to be a sustained and gradual deceleration of its economy.
"We are well aware of Argentina problems with its trade balance, and this adds complexity to Mercosur negotiations with the EU, which we expect to retake in the second half and most probably with an exchange of proposals in the fourth quarter", added Schaefer.
Under Mercosur charter all countries must act on consensus and are banned from unilaterally establishing trade accords with third countries.
However if negotiations effectively take off in the second half of 2013, and Mercosur moves at a quicker pace, experts forecast that negotiations with the EU still have ahead years of negotiations.
President Rousseff is making later this year her first state visit to the US, which is expected to be an opportunity to boost trade between the two major economies of the continent.