Mujica praises Fidel Castro as a brilliant man promoter of ideas
Friday, July 26th 2013 - 06:11 UTC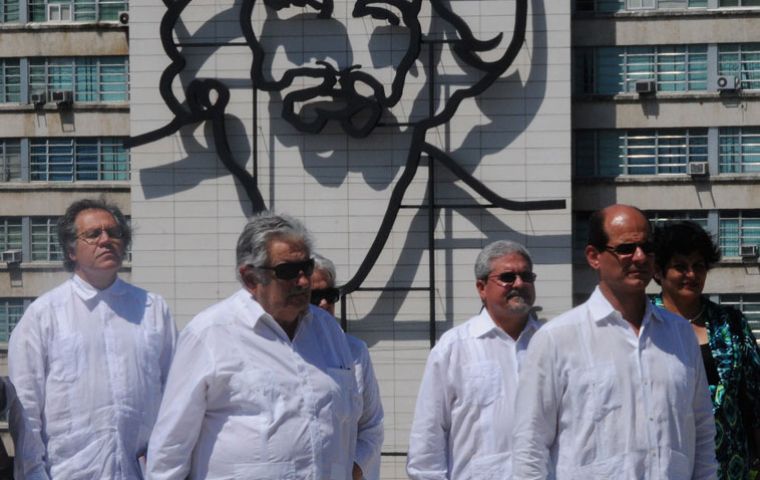 Uruguayan president Jose Mujica currently in Havana said he had an enlightening conversation with the leader of the Cuban revolution Fidel Castro whom he described as "a wise old man who continues to be brilliant" and a 'promoter of ideas".
"It was a conversation too enlightening, we talked about everything, but I found a wise old man who continues to be brilliant, always promoting, sponsoring new ideas" confessed Mujica about his four hour meeting with Fidel on Wednesday.
Mujica said Fidel is dedicated to biologic experimentation to find tropical plants and vegetables that could be used for making animal food, which means leaving as much cereal as possible for human consumption. "He's surrounded by seeds, plants of different varieties on which he experiments and thus giving life a motive".
According to Cuban media the 'emotive meeting' between Mujica and Fidel, both former guerrillas, took place following official talks of the Uruguayan president with his Cuban peer Raul Castro at the Revolution Palace in Havana.
Until Thursday evening Cuban authorities had not released pictures of the meeting with Fidel which was also attended by Mujica's wife Lucia Topolansky, who besides First Lady is an elected Senator.
Fidel, 86, stepped down from office in 2006 because of ill health and since then makes sporadic appearances and in some cases hosts high level visitors to Cuba. Mujica arrived on Wednesday and should be back in Uruguay on Sunday after participating in the Moncada Fort assault which marks the start of the Cuban Revolution sixty years ago.
Mujica said that Uruguay will try and give Cuba 'a hand' with dairy farming so they can increase milk production which is extremely short in the island.
"They need to improve productivity; better quality, better performing livestock and for these animals food is vital, thus Fidel's dedication", said Mujica who also anticipated cooperation in pharmaceutical production.
Cuba imports annually 40.000 tons of powder milk which it sells at subsidized prices to families with children below six, and last year started to work in a plant to process dairy produce.
In 2012 Uruguay exported 42.5 million dollars to Cuba and Havana managed to ship 1.2 million, mostly human blood, cigars and some pharmaceuticals.