Cristina Fernandez administration accused of corruption and waste by farm leaders
Monday, July 29th 2013 - 03:40 UTC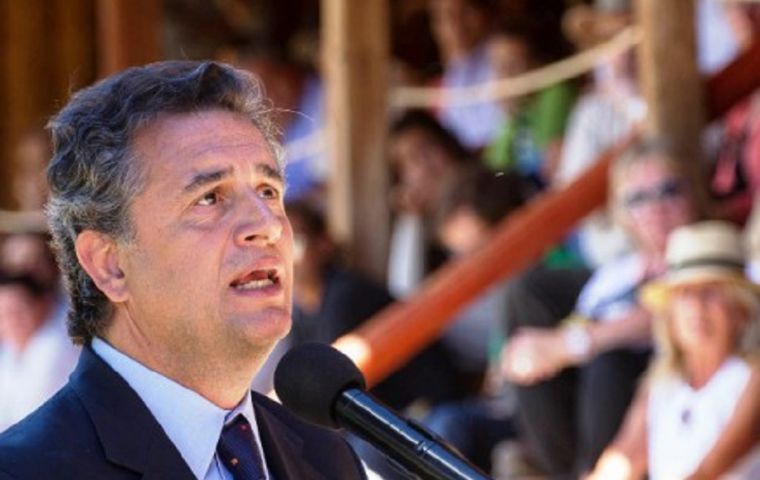 Claiming the government of President Cristina Fernandez has wasted opportunities with 'cheap politics and extended corruption', the Argentine Rural Society, SRA president Luis Miguel Etchevehere inaugurated this weekend the Rural farm show in Palermo, the largest event of its kind in Argentina.
"The national government wasted opportunities and misspent subsidies with cheap politics, corruption and populist actions" said Etchevehere at the opening of the 127th Palermo show edition.
As strong as the words and claims of corruption were the names attending and present at the main stand in the central ring of the Palermo fair which is a barometer of political feelings in Argentina.
This is particularly after enjoying almost a decade of sustained growth supported by soaring commodities international prices, and a few months away from the October mid term elections.
At the apex of Kirchnerite power it would be unthinkable for political and union leaders of certain calibre to attend an event when such strong words and claims of corruption and waste were made public. They would be immediately blacklisted and exposed to the wrath of the Casa Rosada.
Etchevehere was accompanied by various prominent opposition politicians among which Buenos Aires City Mayor Mauricio Macri, Córdoba Governor José Manuel de la Sota, National lawmaker Francisco de Narváez, Ricardo Gil Lavedra and Alfonso Prat-Gay, lawmaker Federico Pinedo; rural workers' union leader Gerónimo "Momo" Venegas and farm leader Jorge Solmi.
Some business leaders were also present including Argentine Industrial Union head Héctor Méndez, Jaime Campos (Argentine Business Association), Eduardo Eurnekian (Aeropuertos 2000) and Enrique Mantilla (Chamber of Exporters), among others.
"Your government has to understand, once and for all, that the policy of expropriating farm income has failed on a global scale," Etchevehere told the Argentine president, adding that she must put an end to market regulation, "outdated" price controls and "the ridiculous export barriers and bans."
The SRA head also criticized subsidies. "They subsidize and benefit those that have the most while those who get up each morning at five to earn a living are forced to pay an exaggerated income tax," he said.
Etchevehere's speech also included political comments and he also held the national government directly responsible for the Once Station train crash in downtown Buenos Aires in which 52 people were killed last year.
"For many the 'won decade' is the lost decade. Because they lost even their lives, when the train did not stop at Once, or when the flood swept everything in its path in La Plata, because no one did anything to prevent this, during so many years," said Etchevehere in reference to the Kirchnerite slogan on Argentina's "won decade" since it rose to power in 2003.
The SRA president also called on public opinion to defend the Constitution, to respect federalism and criticized the judicial reform sponsored by the national government. "They think they can violate the Constitution, condition the Supreme Court and name submissive judges who turn a blind eye while they weigh bags full of cash" he said.
"This was a decade where almost all of the Latin American countries multiplied investment coming from abroad. Almost all, except Argentina, which suffered a capital flight record," said Etchevehere.
The SRA is the largest, strongest and richest farmers' lobby in Argentina and its size and influence with time has given birth to other rival organizations representing small and medium size farmers or with other immediate interests. However the administration of Cristina Fernandez and her tax policies have managed to bring them together under the so called "Farmers' Liaison Board".