UN calls on Chile to stop using anti-terrorism law against indigenous Mapuches
Wednesday, July 31st 2013 - 06:14 UTC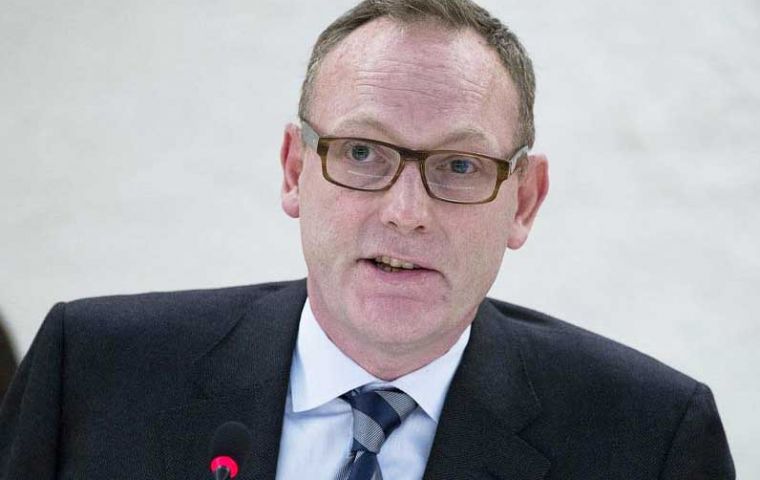 A United Nations investigator on Tuesday urged Chile's government to stop using an anti-terrorism law against Mapuche Indians who are fighting to recover their ancestral land.
Violence in the Mapuche struggle escalated last year with a string of arson attacks, including one that killed an elderly couple. Their deaths shocked Chileans and raised questions about the inability of President Sebastian Piñera's government to meet the demands of Chile's largest indigenous group and his administration's vow to continue using tough dictatorship-era measures to curb violence.
Ben Emmerson, the U.N. special investigator on human rights and counter-terrorism, said the situation is ''volatile'' in the southern regions of Araucania and Bio Bio, where most of the nearly one million Mapuche live.
Speaking after a two-week visit to Chile, he warned ''that it could turn into a major regional conflict unless urgent action is taken to deal with the acts of violence.''
He said Chilean prosecutors have enough legislation ''at their disposal to investigate and punish crimes'' without the need to use the terrorism law that dates from Gen. Augusto Pinochet's 1973-90 dictatorship.
''The anti-terrorist legislation has been used in a way that discriminates against the Mapuche. It has been applied in a confusing and arbitrary way, which has turned into a real injustice that has impaired the right to a fair trial. And it has been perceived as stigmatizing and de-legitimizing of the Mapuche territorial demands and protests,'' Emmerson said.
Emmerson said Chile should come up with a strategy to solve the dispute, recognize the Mapuche under the constitution and speed up the return of their lands.
''The preliminary conclusions of the U.N. official go along with what we've been saying: that there's no terrorism and that this is a disproportionate law that only creates more tensions,'' said Aucan Huilcaman, a Mapuche leader.
''If Chile really wants to show its democratic side it must recognize the Mapuche people,'' Huilcaman added.
Emmerson, who was invited to Chile by Piñera's government, said the country must put an end to violence by police against the Mapuche.
The Mapuche, which means ''people of the land'' in their native Mapudungun language, resisted the Spanish conquest for 300 years and their desire for autonomy remains strong. It wasn't until the late 19th century that they were defeated militarily and forced into Araucania, south of the Bio Bio river, about 550 kilometers south of the capital.
Most live in poverty on the fringes of timber companies or ranches owned by the descendants of those who arrived to the region in the late 1800s from Europe.